"The aim and final reason of all music should be
nothing else but the Glory of God and
the refreshment of the Spirit"
- J.S. Bach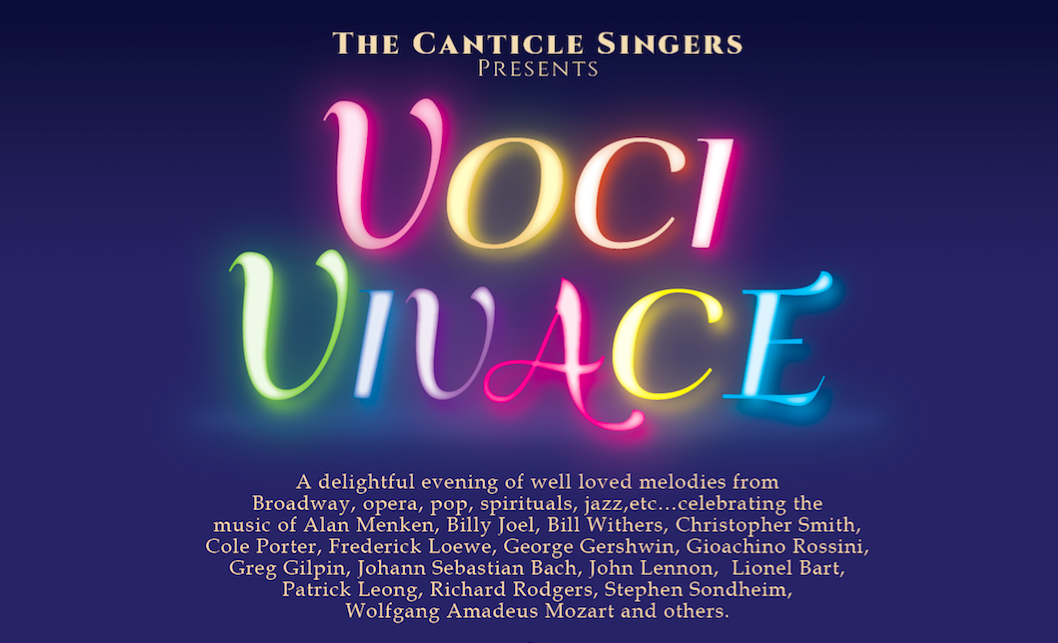 INTRODUCTION
The Canticle Singers ("TCS") proudly presents Voci Vivace (or "lively voices" in Italian), an eclectic collection of songs from the world of opera, musicals, pop, spirituals, jazz and more and celebrate the songs and music of Alan Menken, Billy Joel, Bill Withers, Cole Porter, Frederick Loewe, George Gershwin, Gioachino Rossini, Greg Gilpin, Johann Sebastian Bach, John Lennon, Lionel Bart, Patrick Leong, Richard Rodgers, Stephen Sondheim, Wolfgang Amadeus Mozart and others. Immerse yourself with 'Go the Distance' from "Hercules", 'Ce'st Moi' from "Camelot", 'Lean On Me' from the album "Still Bill", 'Nothing There to Love' from "Amazing Grace the Musical", 'Let It Be' the Beatles release, 'A Celebration of Company' from "Company", 'Donne Mie La Fate A Tanti' from "Cosi Fan Tutte", 'Ikaw' and more.
The concert is in support of Purple Centres Foundation, Manila.
PERFORMANCE DATES & TIMES
At 8.30PM on Saturday 6 & Sunday 7 October 2018
The run time is approximately 100 minutes exclusive of a 15 minute intermission.
VENUE
Luther Lead Centre,
7, Jalan Duta Kiara, Mont Kiara,
50480 Kuala Lumpur, Malaysia
WAZE will lead you to Luther Lead Centre.
There is limited elevator access from the basement up to the auditorium.
TICKETING & CONDITIONS
Tickets are priced at RM88 each and only available online via Ticket2u.com.my from 1 September 2018
CONDITIONS
- Dress code is smart casual.
- Members of the audience are requested to be seated by 8.15pm.
- The minimum age for admission with a ticket is 10 years old.
- Latecomers will be admitted during a convenient break in the program.
- No photographs, video or sound recordings may be taken during any part of the concert.
- No food or drinks are allowed in the auditorium.
- The auditorium is a no smoking facility.
- There is limited elevator access from the basement up to the auditorium.
- Additional and ample parking, on a paid basis is available at Solaris, Mont Kiara about 5 minutes away.
- Tickets once sold are "non-refundable".
GUEST ARTISTS
Voci Vivace will feature The Concert Chorale of 18 voices and guest artists Ang Mei Foong, Soprano; Cipriano De Guzman Jr, Baritone; Patrick Leong, Tenor and Gospel recording artist and Crimson Guirjem from Philippine Ballet Theatre.
Mark Anthony Carpio, Choirmaster of the world acclaimed Philippine Madrigal Singers will guest conduct the choral piece "Ikaw" at the Sunday 7 October 2018 performance. Timothy Ooi will be your concert host with Alice Ang Ying Ying as the accompanist. The concert will also feature a special needs guest Joel Lau who has Asperger Syndrome, currently studying F&B at Berjaya College, will be joining the chorale a number.
BACKGROUND OF THE CANTICLE SINGERS
TCS is an accomplished voluntary chorale (choir) established in Kuala Lumpur in 1992 and celebrated its 25th Anniversary in 2017. We embrace a repertoire of choral music which entertain as well as seek to inspire, encourage, provide hope and share our thoughts. Our music encompasses a wide repertoire of musicals, pop, folk, jazz, lounge, semi-classical and classical music. TCS comprises volunteer singers from all walks of life and different occupations and backgrounds. All our singers are volunteers and unpaid. Our members are offered opportunities to improve and advance their performing skills, encourage a keener appreciation of music and the performing arts; contributing to the creation of a more artistically sensitive and vibrant community.
Members of The Concert Chorale are:
| | | | | |
| --- | --- | --- | --- | --- |
| Alain Boey Cheng Choong | | Esther Wong Yoot Wen | | Koh Sin Kit |
| Anatolia Chiam Sew Yang | | Goh Yu Shaine | | Lau Chuan Jie |
| Bibiana Ang Chooi See | | Ivan Liew Chee Kin | | Radiance Lim Boh Yee |
| Brian Cheong Chee Yoong* | | Ivy Chan Mun Ying | | Samuel Goh Min Tzung |
| Chong Kin Kiat | | Jeffery Chew Keng Soon | | Vaness Ching Hui Xian |
| Chow Eu An | | Joanne Poh Yuet Foong | | Yeoh Siu Xi |
| * Choirmaster | | | | |

TCS has done 26 productions to date and possibly offers one of the most extensive concert repertoires in the country. Our larger productions have been done as benefit concerts for a range of charities, non-governmental organisations and other worthy causes, touching lives in Malaysia, Indonesia, Thailand, Sri Lanka, Pakistan and Philippines. TCS was awarded The Boh Cameronian Arts Award for Best Group Vocals in 2014 and 2011 and won 6 nominations for the same award in 2014, 2012 and 2011.
Website: www.thecanticlesingers.com Email for inquiries: This email address is being protected from spambots. You need JavaScript enabled to view it.
PURPLE CENTRES FOUNDATION
This production continues to support the ongoing work of Purple Centres Foundation ("PCF") in Manila. PCF works alongside Filipino families from dumpsite and cemetery communities in the Philippines to ensure children follow their dreams and fulfil their potential in safe, healthy, and positive communities The projects of PCF that we have supported for a number of years include the support of their school for the children (constructed of recycled shipping containers) and child sponsorship. We make periodic visits to the school in Manila to review its progress and ongoing work. PCF's website is at http://purplecenters.org
PRODUCTION TEAM
| | | | | |
| --- | --- | --- | --- | --- |
| Producer | HK Chong | | Stage Manager | Bebe Chan |
| Co-Producer | Chong Kin Kiat | | Technical Manager | Wong Wing Thim |
| Artistic Director | Chin San Sooi | | Sound Engineer | Kenneth Ooi Aik Lay |
| Music Director | Joanne Poh Yuet Foong | | Technical Team | Harris Cazaly & Jonathan Ooi |
| Administrator | Ivy Chan Mun Ying | | | |

CORPORATE PARTNERS
Official Cast

Dinner Host

Presenting Partners

Official

Couturier
Official Music School
Official Printer

Official Men's Tailor

Official Restaurants
Official Skincare
Official Salon
Official Makeup
Official Airline
_________________________________________________________ Digital Media Partners _________________________________________________________
Official Beverage