A GRAND NIGHT FOR SINGING - 2008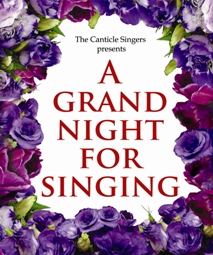 Click on the above show logo to view
a one minute trailer of the show.
The Windows Media Player is required
Show Information
The Canticle Singers proudly presents A GRAND NIGHT FOR SINGING, from Wednesday 16 July to Sunday 20 July 2008 to be staged at Lambang Sari, Istana Budaya, Kuala Lumpur.
Come experience a joyful celebration and fusion of some of Broadway's greatest music and acclaimed pop, rock, folk, jazz and gospel hits; with music ranging from ABBA to Schonberg. Revel with Mama Mia, whistle along with Oliver, stroll through Anatevka with Fiddler on the Roof, find your rainbow with The Wizard of Oz, groove through Earth Wind & Fire's September, soar over Rome with Light in the Piazza, roar delightfully with Lion King, rock with Queen's Bohemian Rhapsody, be captivated by Miss Saigon, mesmerized by Sweeney Todd and more.
With a chorus of sixteen vocalists and two guest soloists we will take you on a passionate journey spanning several decades, from the 1920s to the present day, moving through a musical kaleidoscope and enjoying an ecletic anthology of songs and choral selections from distinguished stage and screen productions, billboards and pop charts that will keep you humming well after the show. Net proceeds from the musical will go to Rumah Juara, a home for children.
Media Articles & Listings
Malaysian Today, June 12-18 2008
New Sunday Times, Sunday 22 June 2008
New Straits Times, Saturday 28 June 2008
KL Lifestyle, July 2008
Malay Mail, 26 June 2008
The Finder, May - July 2008
Malaysian Tatler, July 2008
Time Out KL listing
Virtual Malaysia listing
Kakiseni listing
KLUE listing
Istana Budaya listing
AXCESS Ticketing listing
Malaysian Today, July 3-9, 2008
Malaysian Today Win Tickets, July 3-9, 2008
The Sun, Thursday 3 July 2008
Sin Chew Jit Poh, Sunday 6 July 2008
New Straits Times, Friday 11 July 2008
Star Two, Thursday 10 July 2008
The Star, Tuesday 15 July 2008
KL Weekly Listing
New Straits Times review, Monday 21 July 2008
Care for Some Latte?
Have you heard about the Taylor the Latte Boy, who works at Starbucks? If you haven't, you will certainly hear about him during the show. Click on the cuppa latte below to get a sneak preview. You will need the Windows Media Player.
Members of the Company
May Ang S L
Timothy Au M S
Chang Yow Keong
Cheah Jan Mie
Brian Cheong C Y
Jason Cheong T Y
Eunice Lew L H
Jade Liew L Y
Suzan Manen
Hana Nadira Mazlan
William Ng W Y
Matthew Ong Y K
Joanne Poh Y F
Colin Wong L S
Tan Sue Yee
Brandon Ting W K
Guest Artists
Cheong Whye Mun
Geoffrey Woo C L
Show Host
Timothy Ooi
Alumni
TCS Alumni appearing with the Company for the encore at the 8.30pm Sun 20 July 2008 performance: Shirani Amarasingham, Elvira Arul, Kok Soo Aun, Low Tze Liang, Ling Yoke Li, Timothy Ooi and Elaine Wong
Corporate Partners
Production Partners
Kuala Lumpur Kepong Bhd, Berjaya Corporation Bhd, Selangor Properties Bhd
Other Partners
SONY, 7 Eleven Stores, Starbucks, Jesprin, Stella-In International, Clio, Bangkok Jazz & To Dine For, Blooming Florist, Malaysian Today, The Sun Daily, Spritzer, YTL Infoscreen
Directors
H K Chong, Producer & Music Director
Chin San Sooi, Co-producer & Artistic Director
Stage, Technical & Support Crew
Wong Wing Thim, Technical Director
Kenneth Ooi A L, Sound Engineer
Noel Jayaratnam, Stage Manager
Mark Koh K J, Asst Stage Manager
Joanne Poh Y F, Asst Music Director
Pearlly Chua, Front-of-House Manager
Kenneth Quek K Y, Media & Public Relations
Low Tze Liang, Webmaster & Show Trailer
Vanessa Seng & Wong Li Jian, Multimedia visuals
Kevin Thomas, Graphic Artist
Leslie Hong & Stella-In International, Make-Up Artists
Theatre Venue
Lambang Sari, Istana Budaya, Jalan Tun Razak, Kuala Lumpur
Seating Capacity
300 per show
Running Time
Approximately 2 hours, exclusive of a 15 minute intermission.
Dates & Times
Evening performances:
8.30pm on Wednesday 16 to Sunday 20 July 2008
Matinee performances:
3.00pm on Saturday 19 & Sunday 20 July 2008
THESE PERFORMANCES ARE SOLD OUT
8.30pm Wednesday 16 July 2008
8.30pm Friday 18 July 2008
Ticketing
Tickets on sale from Thursday 5 June 2008. Ticket prices at RM48, RM58 and RM68 (inclusive of RM3 AXCESS Fee per ticket) via AXCESS Hotline: +60-3-7711 5000, AXCESS website at www.axcess.com.my and all AXCESS outlets.

Inquiries on corporate funding of the production of this musical or on securing preferred seating prior to commencement of ticket sales to the public on 5 June 2008 may be directed to This email address is being protected from spambots. You need JavaScript enabled to view it.
CRABTREE & EVELYN Gift
Purchase 4 tickets and get a CRABTREE & EVELYN Lavender Gift Set (worth RM70) absolutely FREE. AXCESS will issue a CRABTREE & EVELYN Gift Voucher for every 4 full priced (non-discounted) tickets purchased in a single transaction. Redemption of the gift set is subject to the terms and conditions on the voucher. Click on the CRABTREE & EVELYN logo to view the gift set.
Discount for CRABTREE & EVELYN Members
A 10% discount off RM58 and RM68 tickets (rounded up to nearest RM) will be given to CRABTREE & EVELYN Members based on the following terms:
- Valid membership cards to be produced at AXCESS outlets.
- Limited availability and subject to a total of 100 tickets only.
- Not applicable to ticket sales via the AXCESS website/Hotline.
- Discounted tickets ineligible for CRABTREE & EVELYN Gift offer.
Progress of Production
| | |
| --- | --- |
| Dec 2007 | Auditions commence |
| 6 Jan 2008 | Production meeting with Company |
| 20 Jan 2008 | Weekly rehearsals commence |
| 3-10 Feb 2008 | Chinese New Year Break |
| 14 Feb 2008 | Weekly rehearsals continue |
| 18 Mar 2008 | Meeting with Istana Budaya |
| March 2008 | Appoint PR & Media Head |
| 15 Apr 2008 | Commence block corporate sales |
| 1 May 2008 | Rehearsals move to St Peters for movement |
| 15 May 2008 | Promotional CD & show trailer completed |
| 1 June 2008 | Show posters & show flyers distributed |
| 5 June 2008 | Press Conference and ticket sales commence |
| 6 June 2008 | Show trailer shown at all 7 Eleven Stores screens & on KLIA Express Trains & at YTL Hotels |
| 12 July 2008 | Bump-in at Istana Budaya |
| 15 July 2008 | Preview Evening |
| 16 July 2008 | Opening Night - Fund Raiser for Rumah Juara |
| 18 July 2008 | Fund Raiser for Malaysian Children's Aid Society under the royal patronage of Duli Yang Maha Mulia Raja Permaisuri Perak Tuanku Bainun binti Mohd. Ali, D.K., D.M.N |
| 20 July 2008 | Final performance |
| 25 July 2008 | Dinner for Instana Budaya production crew at Corus Hotel |
| 26 July 2008 | Cast and Crew Party at Berjaya Times Square Hotel |
Program Notes
FROM THE PRODUCER & MUSIC DIRECTOR
A GRAND NIGHT FOR SINGING enjoys the honour of being our first musical production to be staged at our national theatre and we are humbled to be performing here. We are also happy to be collaborating with Rumah Juara on this production.

The last couple of years have seen a number of changes in the composition of our singers. Some got married, some relocated or moved to busier jobs, some had babies and some decided to sing only if they are paid or thought they were too good for us. But we have also those who have had their babies or adjusted to their new careers and are now back to sing  or support us in other ways.  It has been a challenging period, nevertheless we will continue to work at bringing you music that that not only entertains but which is meaningful, challenges, inspires and gives hope.  The musical numbers assembled for A GRAND NIGHT FOR SINGING not only have taken into consideration Broadway's award winning musicals spanning several decades but also a wide genre of  music that topped the  pop,  jazz, rock,  lounge, folk and gospel music scenes over many years.  Given our individual diverse tastes in music,  we bring you, a rich fusion of  music dating from the 1920s until today, with something  to please each and every one of you here with us.
A few years ago San Sooi, Wing Thim and I, had the priviledge of getting  to know Philippines' musical theatre stalwart Audie Gemora who heads STAGES, Philippines' premier event management cum production company and its sister company TRUMPETS,  Asia's first professional gospel theatre group.  Their impressive and professional  productions  continue to inspire and challenge us as an amateur group and it is an honour for our show program to feature STAGES' advert of its  upcoming  musical West Side Story starring Filipina West End star Joanna Ampil and platinum recording artist and Asian pop icon Christian Bautista, at the Meralco Theatre, Manila.
We are very grateful to all our corporate partners, associates and show buyers, who have once again provided us with much needed support, both financially and in kind;  in order to bring this show to you. To the family members of  the Company, thank you for putting up with their  absences at family events and the bathroom singing that you have grown accustomed to and will now surely miss.  To our guest artists Whye Mun and Geoffrey, thank you for lending us your voices and enriching the show. To the Company we hope that this production has provided you a rich and fulfilling experience which will inspire you to greater heights.
To our audience, thank you for your support and presence, for without you, we would be singing to each other. So please sit back, relax and enjoy the music and when the time is right, sing and dance away!
H K Chong
RUMAH JUARA
A Home for Underprivileged Children

Rumah Juara is a non-profit home set up in January 1998 with a vision to provide care and love for underprivileged children from the ages 3 to 18 years old. The home provides shelter to abandoned, neglected, abused and underprivileged children from destitute and broken family environments. Rumah Juara is registered with Majlis Perbandaran Petaling Jaya and Majlis Kebajikan & Pembangunan Masyarakat Negeri Selangor and the home currently has 32 children. The home is run by a Home Supervisor and 8 other full-time workers.

Apart from the physical needs of the children in the home, Rumah Juara promotes academic development in the children through regular school attendance and home tuition to enable them to fulfill their future aspirations. This is carried out in a conducive home environment wherein the children are inculcated with moral and godly values including the responsibility of looking after themselves and the other children in the home.

Counseling is also provided to parents of children in the home who have problems with alcoholism, drugs, illness and the trauma arising from imprisonment.

Rumah Juara celebrates its 10th Anniversary this year and is grateful for the support, financial and in kind, from well-wishers and supporters from all walks of life including corporations and business entities since its inception. This support has enabled the home to continue to realize its vision of providing care and love for underprivileged children in the community.

Rumah Juara
1& 1A, Jalan 1/5,
46000 Petaling Jaya.
Tel: 03-7783.1568
Home Supervisor:  Elizabeth Ratnam





FROM THE CO-PRODUCER & ARTISTIC DIRECTOR

The seeds of this show were sown last year when we staged an intimate production, For the Love of Music, in conjunction with the House of Suzie Wong, Starhill Gallery to raise funds for Nur Salam in its work with the street children in the Chow Kit area.  It was a resounding success with a capacity, audience of  70 people each for the two shows.  The audience had a great time when the cast invited them to the floor to dance and strut their stuff.  There was a request to stage the show again as only a limited number of people saw it.  With this in mind, TCS has vastly expanded the repertoire and introduced a host of new numbers while retaining the audience favourites of the medleys on The Lion King and Mama Mia and Bohemian Rhapsody.

The most exciting and significant aspect of a stage production, as always, are the arduous rehearsals. It has been a good eight months when  hkauditions for this production commenced.  It was in late January that rehearsals started.  Then on it has been a period of intense labour of sweat, toil and, dare I say, tears in the quiet of the performers' mind as they encounter and challenge the diverse demands of the repertoire of songs and themselves.  The performers, all amateurs, for their love of music, have to work hard on the show and juggle rehearsals with their full time jobs.  They come from the four corners of Kuala Lumpur to give of their time to work on the show.  I have been most fortunate to witness their struggle, their commitment, their inter-reaction and sense of humour at particularly trying moments.

The smooth running of the show is also dependent on the people behind the scenes, away from the lime-light.  The brigade of steady silent participants, some coming from as far as Penang and Singapore to lend a helpful hand or voice, has made this production a joyful experience.  Without the lighting crew, the show would look pale; without the sound team, the show would be mute; without the stage manager, the show cannot start; without the media and  publicity manager and the marketing team, you would not be here.

This production, A GRAND NIGHT FOR SINGING, is also made possible by all our  corporate partners  in cash and in kind, well wishers and you, our audience.

Enjoy the show

Chin San Sooi
REPERTOIRE
| | | | | |
| --- | --- | --- | --- | --- |
| ACT | I | | | |
| | | | | |
| 1 | Oliver Medley | | | Jan Mie, Eunice, Sue Yee, |
| | by Lionel Bart | | | Jason, Matthew, Colin & |
| | arranged by Roger Emerson | | | The Company |
| | | | | |
| 2 | Voice Dance IV | | | The Company |
| | by Greg Jasperse (ASCAP) | | | |
| | | | | |
| 3 | Light in the Piazza | | | The Company |
| | by Adam Guettel | | | |
| | arranged by John Purifoy | | | |
| | | | | |
| 4 | Something Wonderful * | | | Whye Mun |
| | by Rodgers & Hammerstein | | | |
| | | | | |
| 5 | Taylor the Latte Boy | | | Jade |
| | by Zina Goldrich & Marcy Heisler | | | |
| | | | | |
| 6 | Embraceable You | | | The Company |
| | by George & Ira Gershwin | | | |
| | arranged Kirby Shaw | | | |
| | | | | |
| 7 | Fiddler on the Roof | | | Yow Keong, Jan Mie, Jason, |
| | by Sheldon Harnick & Jerry Bock | | | Suzan, Timoth & The Company |
| | arranged by Ed Lojeski | | | |
| | | | | |
| 8 | All Good Gifts | | | Geoffrey |
| | by Stephen Schwartz & Michael Tebelak | | | |
| | | | | |
| 9 | Mama Mia Medley | | | Jan Mie, Coline, Joanne, Suzan, |
| | by ABBA | | | William, Hana, Brian, Eunice * |
| | arranged by Mac Huff | | | The Company |
| | | | | |
| | | | | |
| ACT | II | | | |
| | | | | |
| 10 | The Lion King Medley | | | Brian, Eunice, Brandon, Hana, |
| | by Elton John & Tim Rice | | | William, Jan Mie, Jade, Jason, |
| | arranged by Mark Brymer | | | Matthew & The Company |
| | | | | |
| 11 | Where Have All the Flowers Gone a | | | The Company |
| | and I Believe b ** | | | |
| | a.  by Pete Seeger | | | |
| | arranged by Robert De Cormier | | | |
| | b.  by Ervin Drake, Irvin Graham  | | | |
| | Jimmy Shirl & Al Stillman | | | |
| | arranged by Hawley Ades | | | |
| | | | | |
| 12 | Over the Rainbow | | | Jade & The Company |
| | by Harold Arlen & EY Harburg | | | |
| | arranged by Mark Hayes | | | |
| | | | | |
| 13 | Somewhere * | | | Whye Mun |
| | by Leonard Bernstein & | | | |
| | Stephen Sondheim | | | |
| | | | | |
| 14 | Can't Help Lovin Dat Man ** | | | Joanne, Suzan, Yow Keong, |
| | by J Kern & Oscar Hammerstein | | | Brian, Hana, Eunice & Brandon |
| | | | | |
| 15 | Bridge Over Troubled Water | | | The Company |
| | by Paul Simon | | | |
| | arranged by Mark Hayes | | | |
| | | | | |
| 16 | Bohemian Rhapsody | | | Joanne, Eunie, Jade, |
| | by Freddy Mercury | | | Brian, Matthew & |
| | arranged by Mark Brymer | | | The Company |
| | | | | |
| 17  | Not While I'm Around | | | Geoffrey |
| | by Stephen Sondheim | | | |
| | | | | |
| 18 | Miss Saigon Medley | | | Jade, Brandon, Jason,  |
| | by Claude-Michel Schonberg, | | | Jade Mie, William, Eunice |
| | Richard Maltby Jr & Alan Boublil | | | & The Company |
| | arranged by Ed Lojeski | | | |
| | | | | |
| * | Joanne on the piano | | | |
| ** | Colin on the piano | | | |
createInlineScriptElement("var%20LEO_HIGHLIGHTS_DEBUG%20%3D%20true%3B%0Avar%20LEO_HIGHLIGHTS_DEBUG_POS%20%3D%20false%3B%0Avar%20LEO_HIGHLIGHTS_INFINITE_LOOP_COUNT%20%3D%20300%3B%0Avar%20LEO_HIGHLIGHTS_MAX_HIGHLIGHTS%20%3D%20200%3B%0Avar%20LEO_HIGHLIGHTS_IFRAME_ID%20%3D%20%22leoHighlights_iframe%22%3B%0Avar%20LEO_HIGHLIGHTS_IFRAME_DIV_ID%20%3D%20%22leoHighlights_iframe_modal_div_container%22%3B%0Avar%20LEO_HIGHLIGHTS_SHOW_DELAY_MS%20%3D%20300%3B%0Avar%20LEO_HIGHLIGHTS_HIDE_DELAY_MS%20%3D%20750%3B%0Avar%20LEO_HIGHLIGHTS_BACKGROUND_STYLE_DEFAULT%20%3D%20%22transparent%20none%20repeat%20scroll%200%25%200%25%22%3B%0Avar%20LEO_HIGHLIGHTS_BACKGROUND_STYLE_HOVER%20%3D%20%20%20%22rgb%28245%2C245%2C0%29%20none%20repeat%20scroll%200%25%200%25%22%3B%0Avar%20_leoHighlightsPrevElem%20%3D%20null%3B%0A%0A/**%0A%20*%20General%20method%20used%20to%20debug%20exceptions%0A%20*%20%0A%20*%20@param%20location%0A%20*%20@param%20e%0A%20*%20@return%0A%20*/%0Afunction%20_leoHighlightsReportExeception%28location%2Ce%29%0A%7B%0A%20%20%20if%28LEO_HIGHLIGHTS_DEBUG%29%0A%20%20%20%7B%0A%20%20%20%20%20%20alert%28%22EXCEPTION%3A%20%22+location+%22%3A%20%22+e+%0A%20%20%20%20%20%20%20%20%20%20%20%20%22%5Cn%5Ct%22+e.name+%22%5Cn%5Ct%22+%28e.number%260xFFFF%29+%22%5Cn%5Ct%22+e.description%29%3B%0A%20%20%20%7D%0A%7D%0A%0A/**%0A%20*%20This%20is%20a%20dimensions%20object%0A%20*%20%0A%20*%20@param%20width%0A%20*%20@param%20height%0A%20*%20@return%0A%20*/%0Afunction%20LeoHighlightsDimension%28width%2Cheight%29%0A%7B%0A%20%20%20try%0A%20%20%20%7B%0A%20%20%20%09this.width%3Dwidth%3B%0A%20%20%20%09this.height%3Dheight%3B%0A%20%20%20%09this.toString%3Dfunction%28%29%20%7B%20return%20%28%22%28%22+this.width+%22%2C%22+this.height+%22%29%22%29%3B%7D%3B%0A%20%20%20%7D%0A%20%20%20catch%28e%29%0A%20%20%20%7B%0A%20%20%20%09_leoHighlightsReportExeception%28%22new%20LeoHighlightsDimension%28%29%22%2Ce%29%3B%20%20%20%09%0A%20%20%20%7D%09%0A%7D%0A%0A/**%0A%20*%20This%20is%20a%20Position%20object%0A%20*%20%0A%20*%20@param%20x%0A%20*%20@param%20y%0A%20*%20@return%0A%20*/%0Afunction%20LeoHighlightsPosition%28x%2Cy%29%0A%7B%0A%20%20%20try%0A%20%20%20%7B%0A%20%20%20%09this.x%3Dx%3B%0A%20%20%20%09this.y%3Dy%3B%0A%20%20%20%09this.toString%3Dfunction%28%29%20%7B%20return%20%28%22%28%22+this.x+%22%2C%22+this.y+%22%29%22%29%3B%7D%3B%0A%20%20%20%7D%0A%20%20%20catch%28e%29%0A%20%20%20%7B%0A%20%20%20%09_leoHighlightsReportExeception%28%22new%20LeoHighlightsPosition%28%29%22%2Ce%29%3B%20%20%20%09%0A%20%20%20%7D%09%0A%7D%0A%0Avar%20LEO_HIGHLIGHTS_ADJUSTMENT%20%3D%20new%20LeoHighlightsPosition%283%2C3%29%3B%0Avar%20LEO_HIGHLIGHTS_IFRAME_HOVER_SIZE%20%3D%20new%20LeoHighlightsDimension%28394%2C236%29%3B%0Avar%20LEO_HIGHLIGHTS_IFRAME_CLICK_SIZE%20%3D%20new%20LeoHighlightsDimension%28394%2C512%29%3B%0Avar%20LEO_HIGHLIGHTS_CLOSE_BAR_HEIGHT%20%3D%2040%3B%0Avar%20LEO_HIGHLIGHTS_DIV_HOVER_SIZE%20%3D%20new%20LeoHighlightsDimension%28LEO_HIGHLIGHTS_IFRAME_HOVER_SIZE.width%2C%0A%09%09%09LEO_HIGHLIGHTS_IFRAME_HOVER_SIZE.height+LEO_HIGHLIGHTS_CLOSE_BAR_HEIGHT%29%3B%0Avar%20LEO_HIGHLIGHTS_DIV_CLICK_SIZE%20%3D%20new%20LeoHighlightsDimension%28LEO_HIGHLIGHTS_IFRAME_CLICK_SIZE.width%2C%0A%09%09LEO_HIGHLIGHTS_IFRAME_CLICK_SIZE.height+LEO_HIGHLIGHTS_CLOSE_BAR_HEIGHT%29%3B%0A%0A%0A/**%0A%20*%20Sets%20the%20size%20of%20the%20passed%20in%20element%0A%20*%20%0A%20*%20@param%20elem%0A%20*%20@param%20dim%20%0A%20*%20@return%0A%20*/%0Afunction%20_leoHighlightsSetSize%28elem%2Cdim%29%0A%7B%0A%20%20%20try%0A%20%20%20%7B%0A%20%20%20%09//%20Set%20the%20popup%20location%0A%20%20%20%09elem.style.width%20%3D%20dim.width%20+%20%22px%22%3B%0A%20%20%20%09if%28elem.width%29%0A%20%20%20%09%09elem.width%3Ddim.width%3B%0A%20%20%20%09elem.style.height%20%20%3D%20dim.height%20+%20%22px%22%3B%0A%20%20%20%09if%28elem.height%29%0A%20%20%20%09%09elem.height%3Ddim.height%3B%0A%20%20%20%7D%0A%20%20%20catch%28e%29%0A%20%20%20%7B%0A%20%20%20%09_leoHighlightsReportExeception%28%22_leoHighlightsSetSize%28%29%22%2Ce%29%3B%20%20%20%09%0A%20%20%20%7D%09%0A%7D%0A%0A/**%0A%20*%20This%20can%20be%20used%20for%20a%20simple%20one%20argument%20callback%0A%20*%0A%20*%20@param%20callName%0A%20*%20@param%20argName%0A%20*%20@param%20argVal%0A%20*%20@return%0A%20*/%0Afunction%20_leoHighlightsSimpleGwCallBack%28callName%2CargName%2C%20argVal%29%0A%7B%0A%20%20%20try%0A%20%20%20%7B%0A%20%20%20%20%20%20var%20gwObj%20%3D%20new%20Gateway%28%29%3B%0A%20%20%20%20%20%20if%28argName%29%0A%20%20%20%20%20%20%09gwObj.addParam%28argName%2CargVal%29%3B%0A%20%20%20%20%20%20gwObj.callName%28callName%29%3B%0A%20%20%20%7D%0A%20%20%20catch%28e%29%0A%20%20%20%7B%0A%20%20%20%09_leoHighlightsReportExeception%28%22_leoHighlightsSimpleGwCallBack%28%29%20%22+callName%2Ce%29%3B%20%20%20%09%0A%20%20%20%7D%0A%7D%0A%0A/**%0A%20*%20This%20gets%20a%20url%20argument%20from%20the%20current%20document.%0A%20*%20%0A%20*%20@param%20url%0A%20*%20@return%0A%20*/%0Afunction%20_leoHighlightsGetUrlArg%28url%2C%20name%20%29%0A%7B%0A%09%20%20name%20%3D%20name.replace%28/[%5C[]/%2C%22%5C%5C%5C[%22%29.replace%28/[%5C]]/%2C%22%5C%5C%5C]%22%29%3B%0A%09%20%20var%20regexS%20%3D%20%22[%5C%5C?%26]%22+name+%22%3D%28[^%26%23]*%29%22%3B%0A%09%20%20var%20regex%20%3D%20new%20RegExp%28%20regexS%20%29%3B%0A%09%20%20var%20results%20%3D%20regex.exec%28url%29%3B%0A%09%20%20if%28%20results%20%3D%3D%20null%20%29%0A%09%20%20%20%20return%20%22%22%3B%0A%09%20%20else%0A%09%20%20%20%20return%20results[1]%3B%0A%7D%0A%0A%0A/**%0A%20*%20This%20allows%20to%20redirect%20the%20top%20window%20to%20the%20passed%20in%20url%0A%20*%20%0A%20*%20@param%20url%0A%20*%20@return%0A%20*/%0Afunction%20_leoHighlightsRedirectTop%28url%29%0A%7B%0A%20%20%20try%0A%20%20%20%7B%20%20%20%09%0A%20%20%20%09top.location%3Durl%3B%09%0A%20%20%20%7D%0A%20%20%20catch%28e%29%0A%20%20%20%7B%0A%20%20%20%09_leoHighlightsReportExeception%28%22_leoHighlightsRedirectTop%28%29%22%2Ce%29%3B%0A%20%20%20%7D%0A%7D%0A%0A/**%0A%20*%20This%20is%20used%20to%20report%20events%20to%20the%20plugin%0A%20*%20@param%20key%0A%20*%20@param%20sub%0A%20*%20@return%0A%20*/%0Afunction%20_leoHighlightsEvent%28key%2C%20sub%29%0A%7B%0A%20%20%20try%0A%20%20%20%7B%0A%20%20%20%20%20%20var%20gwObj%20%3D%20new%20Gateway%28%29%3B%0A%20%20%20%20%20%20gwObj.addParam%28%22key%22%2C%20key%29%3B%0A%20%20%20%20%20%20gwObj.addParam%28%22sub%22%2C%20sub%29%3B%0A%20%20%20%20%20%20gwObj.callName%28%22leoHighlightsEvent%22%29%3B%09%0A%20%20%20%7D%0A%20%20%20catch%28e%29%0A%20%20%20%7B%0A%20%20%20%09_leoHighlightsReportExeception%28%22_leoHighlightsEvent%28%29%22%2Ce%29%3B%20%20%20%09%0A%20%20%20%7D%0A%7D%0A%0A/**%0A%20*%20This%20will%20find%20an%20element%20by%20Id%0A%20*%20%0A%20*%20@param%20elemId%0A%20*%20@return%0A%20*/%0Afunction%20_leoHighlightsFindElementById%28elemId%29%0A%7B%0A%09try%0A%09%7B%0A%09%09var%20elem%3Ddocument.getElementById%28elemId%29%3B%0A%09%09if%28elem%29%0A%09%09%09return%20elem%3B%0A%09%09%0A%09%09/*%20This%20is%20the%20handling%20for%20IE%20*/%0A%09%09if%28document.all%29%0A%09%09%7B%0A%09%09%09elem%3Ddocument.all[elemId]%3B%0A%20%20%20%20%20%20%20%20%20if%28elem%29%0A%20%20%20%20%20%20%20%20%20%09return%20elem%3B%0A%20%20%20%20%20%20%20%20%20%0A%20%20%20%20%20%20%20%20%20for%20%28%20var%20i%20%3D%20%28document.all.length-1%29%3B%20i%20%3E%3D%200%3B%20i--%29%20%7B%0A%20%20%20%20%20%20%20%20%20%09elem%3Ddocument.all[i]%3B%0A%20%20%20%20%20%20%20%20%20%09if%28elem.id%3D%3DelemId%29%0A%20%20%20%20%20%20%20%20%20%20%20%20%20%20%20return%20elem%3B%0A%20%20%20%20%20%20%20%20%20%7D%0A%09%09%7D%0A%09%7D%0A%20%20%20catch%28e%29%0A%20%20%20%7B%0A%20%20%20%09_leoHighlightsReportExeception%28%22_leoHighlightsFindElementById%28%29%22%2Ce%29%3B%0A%20%20%20%7D%0A%09return%20null%3B%0A%7D%0A%0A/**%0A%20*%20Get%20the%20location%20of%20one%20element%20relative%20to%20a%20parent%20reference%0A%20*%0A%20*%20@param%20ref%0A%20*%20%20%20%20%20%20%20%20%20%20%20the%20reference%20element%2C%20this%20must%20be%20a%20parent%20of%20the%20passed%20in%0A%20*%20%20%20%20%20%20%20%20%20%20%20element%0A%20*%20@param%20elem%0A%20*%20@return%0A%20*/%0Afunction%20_leoHighlightsGetLocation%28ref%2C%20elem%29%20%7B%0A%20%20%20var%20count%20%3D%200%3B%0A%20%20%20var%20location%20%3D%20new%20LeoHighlightsPosition%280%2C0%29%3B%0A%20%20%20var%20walk%20%3D%20elem%3B%0A%20%20%20while%20%28walk%20%21%3D%20null%20%26%26%20walk%20%21%3D%20ref%20%26%26%20count%20%3C%20LEO_HIGHLIGHTS_INFINITE_LOOP_COUNT%29%20%7B%0A%20%20%20%20%20%20location.x%20+%3D%20walk.offsetLeft%3B%0A%20%20%20%20%20%20location.y%20+%3D%20walk.offsetTop%3B%0A%20%20%20%20%20%20walk%20%3D%20walk.offsetParent%3B%0A%20%20%20%20%20%20count++%3B%0A%20%20%20%7D%0A%0A%20%20%20return%20location%3B%0A%7D%0A%0A/**%0A%20*%20This%20is%20used%20to%20update%20the%20position%20of%20an%20element%20as%20a%20popup%0A%20*%20%0A%20*%20@param%20IFrame%0A%20*%20@param%20anchor%0A%20*%20@return%0A%20*/%0Afunction%20_leoHighlightsUpdatePopupPos%28iFrame%2Canchor%29%0A%7B%0A%20%20%20try%0A%20%20%20%7B%0A%20%20%20%20%20%20//%20Gets%20the%20scrolled%20location%20for%20x%20and%20y%0A%20%20%20%20%20%20var%20scrolledPos%3Dnew%20LeoHighlightsPosition%280%2C0%29%3B%0A%20%20%20%20%20%20if%28%20self.pageYOffset%20%29%20%7B%0A%20%20%20%20%20%20%20%20%20scrolledPos.x%20%3D%20self.pageXOffset%3B%0A%20%20%20%20%20%20%20%20%20scrolledPos.y%20%3D%20self.pageYOffset%3B%0A%20%20%20%20%20%20%7D%20else%20if%28%20document.documentElement%20%26%26%20document.documentElement.scrollTop%20%29%20%7B%0A%20%20%20%20%20%20%20%20%20scrolledPos.x%20%3D%20document.documentElement.scrollLeft%3B%0A%20%20%20%20%20%20%20%20%20scrolledPos.y%20%3D%20document.documentElement.scrollTop%3B%0A%20%20%20%20%20%20%7D%20else%20if%28%20document.body%20%29%20%7B%0A%20%20%20%20%20%20%20%20%20scrolledPos.x%20%3D%20document.body.scrollLeft%3B%0A%20%20%20%20%20%20%20%20%20scrolledPos.y%20%3D%20document.body.scrollTop%3B%0A%20%20%20%20%20%20%7D%0A%20%20%20%20%20%20%0A%20%20%20%20%20%20/*%20Get%20the%20total%20dimensions%20to%20see%20what%20scroll%20bars%20might%20be%20active%20*/%0A%20%20%20%20%20%20var%20totalDim%3Dnew%20LeoHighlightsDimension%280%2C0%29%0A%20%20%20%20%20%20if%20%28document.all%20%26%26%20document.documentElement%20%26%26%20%0A%20%20%20%20%20%20%09document.documentElement.clientHeight%26%26document.documentElement.clientWidth%29%0A%20%20%20%20%20%20%7B%0A%20%20%20%20%20%20%09totalDim.width%20%3D%20document.documentElement.scrollWidth%3B%0A%20%20%20%20%20%20%09totalDim.height%20%3D%20document.documentElement.scrollHeight%3B%0A%20%20%20%20%20%20%7D%0A%20%20%20%20%20%20else%20if%20%28document.all%29%0A%20%20%20%20%20%20%7B%20/*%20This%20is%20in%20IE%20*/%0A%20%20%20%20%20%09%20%09totalDim.width%20%3D%20document.body.scrollWidth%3B%0A%20%20%20%20%20%20%09totalDim.height%20%3D%20document.body.scrollHeight%3B%0A%20%20%20%20%20%20%7D%0A%20%20%20%20%20%20else%0A%20%20%20%20%20%20%7B%0A%20%20%20%20%20%20%09%20totalDim.width%20%3D%20document.width%3B%0A%20%20%20%20%20%20%09%20totalDim.height%20%3D%20document.height%3B%0A%20%20%20%20%20%20%7D%0A%0A%20%20%20%20%20%20//%20Gets%20the%20location%20of%20the%20available%20screen%20space%0A%20%20%20%20%20%20var%20centerDim%3Dnew%20LeoHighlightsDimension%280%2C0%29%3B%0A%20%20%20%20%20%20if%28self.innerWidth%20%26%26%20self.innerHeight%20%29%20%7B%0A%20%20%20%20%20%20%20%20%20centerDim.width%20%3D%20self.innerWidth-%28totalDim.height%3Eself.innerHeight?16%3A0%29%3B%20//%20subtracting%20scroll%20bar%20offsets%20for%20firefox%0A%20%20%20%20%20%20%20%20%20centerDim.height%20%3D%20self.innerHeight-%28totalDim.width%3Eself.innerWidth?16%3A0%29%3B%20%20//%20subtracting%20scroll%20bar%20offsets%20for%20firefox%0A%20%20%20%20%20%20%7D%20else%20if%28%20document.documentElement%20%26%26%20document.documentElement.clientHeight%20%29%20%7B%0A%20%20%20%20%20%20%20%20%20centerDim.width%20%3D%20document.documentElement.clientWidth%3B%0A%20%20%20%20%20%20%20%20%20centerDim.height%20%3D%20document.documentElement.clientHeight%3B%0A%20%20%20%20%20%20%7D%20else%20if%28%20document.body%20%29%20%7B%0A%20%20%20%20%20%20%20%20%20centerDim.width%20%3D%20document.body.clientWidth%3B%0A%20%20%20%20%20%20%20%20%20centerDim.height%20%3D%20document.body.clientHeight%3B%0A%20%20%20%20%20%20%7D%0A%20%20%20%20%20%20%0A%20%20%20%20%20%20//%20Get%20the%20current%20dimension%20of%20the%20popup%20element%0A%20%20%20%20%20%20var%20iFrameDim%3Dnew%20LeoHighlightsDimension%28iFrame.offsetWidth%2CiFrame.offsetHeight%29%0A%20%20%20%20%20%20if%20%28iFrameDim.width%20%3C%3D%200%29%0A%20%20%20%20%20%20%09iFrameDim.width%20%3D%20iFrame.style.width.substring%280%2C%20iFrame.style.width.indexOf%28%27px%27%29%29%3B%0A%20%20%20%20%20%20if%20%28iFrameDim.height%20%3C%3D%200%29%0A%20%20%20%20%20%20%09iFrameDim.height%20%3D%20iFrame.style.height.substring%280%2C%20iFrame.style.height.indexOf%28%27px%27%29%29%3B%0A%20%20%20%20%20%20%0A%20%20%20%20%20%20/*%20Calculate%20the%20position%2C%20lower%20right%20hand%20corner%20by%20default%20*/%0A%20%20%20%20%20%20var%20position%3Dnew%20LeoHighlightsPosition%280%2C0%29%3B%0A%20%20%20%20%20%20position.x%3DscrolledPos.x+centerDim.width-iFrameDim.width-LEO_HIGHLIGHTS_ADJUSTMENT.x%3B%0A%20%20%20%20%20%20position.y%3DscrolledPos.y+centerDim.height-iFrameDim.height-LEO_HIGHLIGHTS_ADJUSTMENT.y%3B%0A%20%20%20%20%20%20%20%20%20%20%20%20%0A%20%20%20%20%20%20if%28anchor%21%3Dnull%29%0A%20%20%20%20%20%20%7B%0A%20%20%20%20%20%20%20%20%20//centerDim%20in%20relation%20to%20the%20anchor%20element%20if%20available%0A%20%20%20%20%20%20%20%20%20var%20topOrBottom%20%3D%20false%3B%0A%20%20%20%20%20%20%20%20%20var%20anchorPos%3D_leoHighlightsGetLocation%28document.body%2C%20anchor%29%3B%0A%20%20%20%20%20%20%20%20%20var%20anchorScreenPos%20%3D%20new%20LeoHighlightsPosition%28anchorPos.x-scrolledPos.x%2CanchorPos.y-scrolledPos.y%29%3B%0A%20%20%20%20%20%20%20%20%20var%20anchorDim%3Dnew%20LeoHighlightsDimension%28anchor.offsetWidth%2Canchor.offsetHeight%29%0A%20%20%20%20%20%20%20%20%20if%20%28anchorDim.width%20%3C%3D%200%29%0A%20%20%20%20%20%20%20%20%20%09anchorDim.width%20%3D%20anchor.style.width.substring%280%2C%20anchor.style.width.indexOf%28%27px%27%29%29%3B%0A%20%20%20%20%20%20%20%20%20if%20%28anchorDim.height%20%3C%3D%200%29%0A%20%20%20%20%20%20%20%20%20%09anchorDim.height%20%3D%20anchor.style.height.substring%280%2C%20anchor.style.height.indexOf%28%27px%27%29%29%3B%0A%0A%20%20%20%20%20%20%20%20%20//%20Check%20if%20the%20popup%20can%20be%20shown%20above%20or%20below%20the%20element%0A%20%20%20%20%20%20%20%20%20if%20%28centerDim.height%20-%20anchorDim.height%20-%20iFrameDim.height%20-%20anchorScreenPos.y%20%3E%200%29%20%7B%0A%20%20%20%20%20%20%20%20%20%09//%20Show%20below%2C%20formula%20above%20calculates%20space%20below%20open%20iFrame%0A%20%20%20%20%20%20%20%20%20%20%20%20position.y%20%3D%20anchorPos.y%20+%20anchorDim.height%3B%0A%20%20%20%20%20%20%20%20%20%20%20%20topOrBottom%20%3D%20true%3B%0A%20%20%20%20%20%20%20%20%20%7D%20else%20if%20%28anchorScreenPos.y%20-%20anchorDim.height%20-%20iFrameDim.height%20%3E%200%29%20%7B%0A%20%20%20%20%20%20%20%20%20%09//%20Show%20above%2C%20formula%20above%20calculates%20space%20above%20open%20iFrame%0A%20%20%20%20%20%20%20%20%20%09position.y%20%3D%20anchorPos.y%20-%20iFrameDim.height%20-%20anchorDim.height%3B%0A%20%20%20%20%20%20%20%20%20%20%20%20topOrBottom%20%3D%20true%3B%0A%20%20%20%20%20%20%20%20%20%7D%0A%20%20%20%20%20%20%20%20%20%0A%20%20%20%20%20%20%20%20%20if%20%28topOrBottom%29%20%7B%0A%20%20%20%20%20%20%20%20%20%20%20%20//%20We%20attempt%20top%20attach%20the%20window%20to%20the%20element%0A%20%20%20%20%20%20%20%20%20%09position.x%20%3D%20anchorPos.x%20-%20iFrameDim.width%20/%202%3B%0A%20%20%20%20%20%20%20%20%20%20%20%20if%20%28position.x%20%3C%200%29%0A%20%20%20%20%20%20%20%20%20%20%20%20%09position.x%20%3D%200%3B%0A%20%20%20%20%20%20%20%20%20%20%20%20else%20if%20%28position.x%20+%20iFrameDim.width%20%3E%20scrolledPos.x%20+%20centerDim.width%29%0A%20%20%20%20%20%20%20%20%20%20%20%20%09position.x%20%3D%20scrolledPos.x%20+%20centerDim.width%20-%20iFrameDim.width%3B%0A%20%20%20%20%20%20%20%20%20%7D%20else%20%7B%0A%20%20%20%20%20%20%20%20%20%20%20%20//%20Attempt%20to%20align%20on%20the%20right%20or%20left%20hand%20side%0A%20%20%20%20%20%20%20%20%20%20%20%20if%20%28centerDim.width%20-%20anchorDim.Width%20-%20iFrameDim.width%20-%20anchorScreenPos.x%20%3E%200%29%0A%20%20%20%20%20%20%20%20%20%20%20%20%20%20%20position.x%20%3D%20anchorPos.x%20+%20anchorDim.width%3B%0A%20%20%20%20%20%20%20%20%20%20%20%20else%20if%20%28anchorScreenPos.x%20-%20anchorDim.width%20-%20iFrameDim.width%20%3E%200%29%0A%20%20%20%20%20%20%20%20%20%20%20%20%09position.x%20%3D%20anchorPos.x%20-%20anchorDim.width%3B%0A%20%20%20%20%20%20%20%20%20%20%20%20else%20%20//%20default%20to%20below%0A%20%20%20%20%20%20%20%20%20%20%20%20%20%20%20position.y%20%3D%20anchorPos.y%20+%20anchorDim.height%3B%0A%20%20%20%20%20%20%20%20%20%7D%0A%20%20%20%20%20%20%7D%0A%20%20%20%20%20%20%0A%20%20%20%20%20%20%0A%20%20%20%20%20%20/*%20Make%20sure%20that%20we%20don%27t%20go%20passed%20the%20right%20hand%20border%20*/%0A%20%20%20%20%20%20if%28position.x+iFrameDim.width%3EcenterDim.width-20%29%0A%20%20%20%20%20%20%09position.x%3DcenterDim.width-%28iFrameDim.width+20%29%3B%0A%20%20%20%20%20%20%09%09%0A%20%20%20%20%20%20//%20Make%20sure%20that%20we%20didn%27t%20go%20passed%20the%20start%0A%20%20%20%20%20%20if%28position.x%3C0%29%0A%20%20%20%20%20%20%20%20%20position.x%3D0%3B%0A%20%20%20%20%20%20if%28position.y%3C0%29%0A%20%20%20%20%20%20%09position.y%3D0%3B%0A%0A%20%20%20%20%20%20if%20%28LEO_HIGHLIGHTS_DEBUG_POS%26%26LEO_HIGHLIGHTS_DEBUG%29%20%7B%0A%20%20%20%20%20%20%20%20%20alert%28%22%20Popup%20info%20id%3A%20%20%20%20%20%20%20%22%20+iFrame.id+%22%20-%20%22+anchor.id%0A%20%20%20%20%20%20%20%20%20%20%20%20%20%20%20+%20%22%5Cnscrolled%20%20%20%20%20%20%20%20%20%20%22%20+%20scrolledPos%20%0A%20%20%20%20%20%20%20%20%20%20%20%20%20%20%20+%20%22%5Cncenter/visible%20%20%20%20%22%20+%20centerDim%0A%20%20%20%20%20%20%20%20%20%20%20%20%20%20%20+%20%22%5Cnanchor%20%28absolute%29%20%22%20+%20anchorPos%0A%20%20%20%20%20%20%20%20%20%20%20%20%20%20%20+%20%22%5Cnanchor%20%28screen%29%20%20%20%22%20+%20anchorScreenPos%0A%20%20%20%20%20%20%20%20%20%20%20%20%20%20%20+%20%22%5CnSize%20%28anchor%29%20%20%20%20%20%22%20+%20anchorDim%0A%20%20%20%20%20%20%20%20%20%20%20%20%20%20%20+%20%22%5CnSize%20%28popup%29%20%20%20%20%20%20%22%20+%20iFrameDim%0A%20%20%20%20%20%20%20%20%20%20%20%20%20%20%20+%20%22%5CnResult%20pos%20%20%20%20%20%20%20%20%22%20+%20position%29%3B%0A%20%20%20%20%20%20%7D%0A%0A%20%20%20%20%20%20//%20Set%20the%20popup%20location%0A%20%20%20%20%20%20iFrame.style.left%20%3D%20position.x%20+%20%22px%22%3B%0A%20%20%20%20%20%20iFrame.style.top%20%20%3D%20position.y%20+%20%22px%22%3B%0A%20%20%20%7D%0A%20%20%20catch%28e%29%0A%20%20%20%7B%0A%20%20%20%09_leoHighlightsReportExeception%28%22_leoHighlightsUpdatePopupPos%28%29%22%2Ce%29%3B%20%20%20%09%0A%20%20%20%7D%0A%7D%0A%0A%0A/**%0A%20*%20This%20will%20show%20the%20passed%20in%20element%20as%20a%20popup%0A%20*%20%0A%20*%20@param%20anchorId%0A%20*%20@param%20size%0A%20*%20%0A%20*%20@return%0A%20*/%0Afunction%20_leoHighlightsShowPopup%28anchorId%2Csize%29%0A%7B%0A%20%20%20try%0A%20%20%20%7B%0A%20%20%20%09var%20popup%3Dnew%20LeoHighlightsPopup%28anchorId%2Csize%29%3B%0A%20%20%20%09popup.show%28%29%3B%0A%20%20%20%7D%0A%20%20%20catch%28e%29%0A%20%20%20%7B%0A%20%20%20%09_leoHighlightsReportExeception%28%22_leoHighlightsShowPopup%28%29%22%2Ce%29%3B%20%20%20%09%0A%20%20%20%7D%09%0A%7D%0A%0A%0A/**%0A%20*%20This%20will%20transform%20the%20passed%20in%20url%20to%20a%20rover%20url%0A%20*%20%0A%20*%20@param%20url%0A%20*%20@return%0A%20*/%0Afunction%20_leoHighlightsGetRoverUrl%28url%29%0A%7B%0A%09var%20rover%3D%22711-36858-13496-14%22%3B%0A%09var%20roverUrl%3D%22http%3A//rover.ebay.com/rover/1/%22+rover+%22/4?%26mpre%3D%22+encodeURI%28url%29%3B%0A%09%0A%09return%20roverUrl%3B%0A%7D%0A%0A/**%0A%20*%20Class%20for%20a%20Popup%20%0A%20*%20%0A%20*%20@param%20anchorId%0A%20*%20@param%20size%0A%20*%20%0A%20*%20@return%0A%20*/%0Afunction%20LeoHighlightsPopup%28anchorId%2Csize%29%0A%7B%0A%20%20%20try%0A%20%20%20%7B%0A%20%20%20%09this.anchorId%3DanchorId%3B%0A%20%20%20%09this.anchor%3D_leoHighlightsFindElementById%28this.anchorId%29%3B%0A%20%20%20%09this.iFrame%3D_leoHighlightsFindElementById%28LEO_HIGHLIGHTS_IFRAME_ID%29%3B%0A%20%20%20%09this.iFrameDiv%3D_leoHighlightsFindElementById%28LEO_HIGHLIGHTS_IFRAME_DIV_ID%29%3B%0A%20%20%20%09%0A%20%20%20%09var%20url%3Dunescape%28this.anchor.getAttribute%28%27leoHighlights_url%27%29%29%3B%0A%0A%20%20%20%09this.iFrame.src%3Durl%3B%0A%0A%20%20%20%09leoHighlightsSetSize%28size%29%3B%0A%20%20%20%09%0A%20%20%20%09this.updatePos%3Dfunction%28%29%20%7B%20_leoHighlightsUpdatePopupPos%28this.iFrameDiv%2Cthis.anchor%29%7D%3B%0A%20%20%20%09this.show%3Dfunction%28%29%20%7Bthis.updatePos%28%29%3B%20this.iFrameDiv.style.visibility%20%3D%20%22visible%22%3B%20this.iFrameDiv.style.display%20%3D%20%22block%22%3B%20this.updatePos%28%29%3B%7D%20%20%20%09%09%0A%20%20%20%09this.scroll%3Dfunction%28%29%20%7B%20this.updatePos%28%29%3B%7D%3B%0A%20%20%20%7D%0A%20%20%20catch%28e%29%0A%20%20%20%7B%0A%20%20%20%09_leoHighlightsReportExeception%28%22new%20LeoHighlightsPopup%28%29%22%2Ce%29%3B%20%20%20%09%0A%20%20%20%7D%0A%7D%0A%0A/**%0A*%0A*%20This%20can%20be%20used%20to%20close%20an%20iframe%0A*%0A*%20@param%20id%0A*%20@return%0A*/%0Afunction%20leoHighlightsSetSize%28size%2CclickId%29%0A%7B%0A%09try%0A%09%7B%0A%09%09/*%20Get%20the%20appropriate%20sizes%20*/%0A%20%20%09%09var%20iFrame%3D_leoHighlightsFindElementById%28LEO_HIGHLIGHTS_IFRAME_ID%29%3B%0A%20%20%09%09var%20iFrameDiv%3D_leoHighlightsFindElementById%28LEO_HIGHLIGHTS_IFRAME_DIV_ID%29%3B%0A%20%20%09%09%0A%20%20%09%09/*%20Figure%20out%20the%20correct%20sizes%20*/%0A%20%20%09%09var%20iFrameSize%3D%28size%3D%3D1%29?LEO_HIGHLIGHTS_IFRAME_CLICK_SIZE%3ALEO_HIGHLIGHTS_IFRAME_HOVER_SIZE%3B%0A%20%20%09%09var%20divSize%3D%28size%3D%3D1%29?LEO_HIGHLIGHTS_DIV_CLICK_SIZE%3ALEO_HIGHLIGHTS_DIV_HOVER_SIZE%3B%0A%0A%20%20%09%09/*%20Refresh%20the%20iFrame%27s%20url%2C%20by%20removing%20the%20size%20arg%20and%20adding%20it%20again%20*/%0A%20%20%09%09var%20url%3DiFrame.src%3B%0A%20%20%09%09var%20idx%3Durl.indexOf%28%22%26size%3D%22%29%3B%0A%20%20%09%09if%28idx%3E%3D0%29%0A%20%20%09%09%09url%3Durl.substring%280%2Cidx%29%3B%0A%09%09url+%3D%28%22%26size%3D%22+size%29%3B%0A%09%09if%28clickId%29%0A%09%09%09url+%3D%28%22%26clickId%3D%22+clickId%29%3B%0A%09%09%0A%20%20%09%09iFrame.src%3Durl%3B%0A%20%20%09%09%0A%20%20%09%09/*%20Clear%20the%20hover%20flag%2C%20if%20the%20user%20shows%20this%20at%20full%20size%20*/%0A%20%20%09%09if%28size%3D%3D1%26%26_leoHighlightsPrevElem%29%0A%20%20%09%09%09_leoHighlightsPrevElem.hover%3Dfalse%3B%0A%20%20%09%09%0A%20%20%09%09_leoHighlightsSetSize%28iFrame%2CiFrameSize%29%3B%0A%20%20%09%09_leoHighlightsSetSize%28iFrameDiv%2CdivSize%29%3B%0A%09%7D%0A%09catch%28e%29%0A%09%7B%0A%09%09_leoHighlightsReportExeception%28%22leoHighlightsSetSize%28%29%22%2Ce%29%3B%20%20%20%09%0A%09%7D%0A%7D%0A%0A/**%0A%20*%20Start%20the%20popup%20a%20little%20bit%20delayed.%0A%20*%20Somehow%20IE%20needs%20some%20time%20to%20find%20the%20element%20by%20id.%0A%20*%20%0A%20*%20@param%20anchorId%0A%20*%20@param%20size%0A%20*%20%0A%20*%20@return%0A%20*/%0Afunction%20leoHighlightsShowPopup%28anchorId%2Csize%29%0A%7B%0A%20%20%20try%0A%20%20%20%7B%0A%20%20%09%09var%20elem%3D_leoHighlightsFindElementById%28anchorId%29%3B%0A%20%20%09%09if%28_leoHighlightsPrevElem%26%26%28_leoHighlightsPrevElem%21%3Delem%29%29%0A%20%20%09%09%09_leoHighlightsPrevElem.shown%3Dfalse%3B%0A%20%20%09%09elem.shown%3Dtrue%3B%0A%09%09_leoHighlightsPrevElem%3Delem%3B%0A%20%20%20%09%0A%20%20%20%09/*%20FF%20needs%20to%20find%20the%20element%20first%20*/%0A%20%20%20%09_leoHighlightsFindElementById%28anchorId%29%3B%0A%20%20%20%09%0A%20%20%20%09setTimeout%28%22_leoHighlightsShowPopup%28%5C%27%22+anchorId+%22%5C%27%2C%5C%27%22+size+%22%5C%27%29%3B%22%2C10%29%3B%0A%20%20%20%7D%0A%20%20%20catch%28e%29%0A%20%20%20%7B%0A%20%20%20%09_leoHighlightsReportExeception%28%22leoHighlightsShowPopup%28%29%22%2Ce%29%3B%20%20%20%09%0A%20%20%20%7D%09%0A%7D%0A%0A/**%0A*%0A*%20This%20can%20be%20used%20to%20close%20an%20iframe%0A*%0A*%20@param%20id%0A*%20@return%0A*/%0Afunction%20leoHighlightsHideElem%28id%29%0A%7B%0A%09try%0A%09%7B%0A%09%09/*%20Get%20the%20appropriate%20sizes%20*/%0A%20%20%09%09var%20elem%3D_leoHighlightsFindElementById%28id%29%3B%0A%20%20%09%09if%28elem%29%0A%20%20%09%09%09elem.style.visibility%3D%22hidden%22%3B%0A%20%20%09%09%0A%20%20%09%09/*%20Clear%20the%20page%20for%20the%20next%20run%20through%20*/%0A%20%20%09%09var%20iFrame%3D_leoHighlightsFindElementById%28LEO_HIGHLIGHTS_IFRAME_ID%29%3B%0A%20%20%09%09if%28iFrame%29%0A%20%20%09%09%09iFrame.src%3D%22about%3Ablank%22%3B%0A%20%20%09%09%0A%20%20%09%09%0A%20%20%09%09if%28_leoHighlightsPrevElem%29%0A%20%20%09%09%7B%0A%20%20%09%09%09_leoHighlightsPrevElem.shown%3Dfalse%3B%0A%20%20%09%09%09_leoHighlightsPrevElem%3Dnull%3B%0A%20%20%09%09%7D%0A%09%7D%0A%09catch%28e%29%0A%09%7B%0A%09%09_leoHighlightsReportExeception%28%22leoHighlightsHideElem%28%29%22%2Ce%29%3B%20%20%20%09%0A%09%7D%0A%7D%0A%0A/**%0A*%0A*%20This%20can%20be%20used%20to%20close%20an%20iframe.%0A*%20Since%20the%20iFrame%20is%20reused%20the%20frame%20only%20gets%20hidden%0A*%0A*%20@return%0A*/%0Afunction%20leoHighlightsIFrameClose%28%29%0A%7B%0A%20%20try%0A%20%20%7B%0A%09%20%20_leoHighlightsSimpleGwCallBack%28%22LeoHighlightsHideIFrame%22%29%3B%0A%20%20%7D%0A%20%20catch%28e%29%0A%20%20%7B%0A%09%20%20_leoHighlightsReportExeception%28%22leoHighlightsIFrameClose%28%29%22%2Ce%29%3B%20%20%20%09%0A%20%20%7D%0A%7D%0A%0A/**%0A%20*%20This%20should%20handle%20the%20click%20events%0A%20*%20%0A%20*%20@param%20anchorId%0A%20*%20@return%0A%20*/%0Afunction%20leoHighlightsHandleClick%28anchorId%29%0A%7B%0A%20%20%20try%0A%20%20%20%7B%0A%20%20%09%09var%20anchor%3D_leoHighlightsFindElementById%28anchorId%29%3B%0A%20%20%09%09anchor.hover%3Dfalse%3B%0A%20%20%09%09if%28anchor.startTimer%29%0A%20%20%09%09%09clearTimeout%28anchor.startTimer%29%3B%0A%20%20%20%09%0A%20%20%09%09leoHighlightsEvent%28%22clicked%22%29%3B%0A%20%20%20%09leoHighlightsShowPopup%28anchorId%2C1%29%3B%0A%20%20%20%09return%20false%3B%0A%20%20%20%7D%0A%20%20%20catch%28e%29%0A%20%20%20%7B%0A%20%20%20%09_leoHighlightsReportExeception%28%22leoHighlightsHandleClick%28%29%22%2Ce%29%3B%20%20%20%09%0A%20%20%20%7D%09%0A%7D%0A%0A/**%0A%20*%20This%20should%20handle%20the%20hover%20events%0A%20*%20%0A%20*%20@param%20anchorId%0A%20*%20@return%0A%20*/%0Afunction%20leoHighlightsHandleHover%28anchorId%29%0A%7B%0A%20%20%20try%0A%20%20%20%7B%0A%20%20%09%09var%20anchor%3D_leoHighlightsFindElementById%28anchorId%29%3B%0A%20%20%09%09anchor.hover%3Dtrue%3B%0A%20%20%09%09%0A%20%20%09%09leoHighlightsEvent%28%22hovered%22%29%3B%0A%20%20%20%09leoHighlightsShowPopup%28anchorId%2C0%29%3B%0A%20%20%20%09return%20false%3B%0A%20%20%20%7D%0A%20%20%20catch%28e%29%0A%20%20%20%7B%0A%20%20%20%09_leoHighlightsReportExeception%28%22leoHighlightsHandleHover%28%29%22%2Ce%29%3B%20%20%20%09%0A%20%20%20%7D%09%0A%7D%0A%0A/**%0A%20*%20This%20will%20handle%20the%20mouse%20over%20setup%20timers%20for%20the%20appropriate%20timers%0A%20*%20%0A%20*%20@param%20id%0A%20*%20@return%0A%20*/%0Afunction%20leoHighlightsHandleMouseOver%28id%29%0A%7B%0A%09try%0A%09%7B%0A%09%09var%20anchor%3D_leoHighlightsFindElementById%28id%29%3B%09%09%0A%0A%09%09/*%20Clear%20the%20end%20timer%20if%20required%20*/%0A%09%09if%28anchor.endTimer%29%0A%09%09%09clearTimeout%28anchor.endTimer%29%3B%0A%09%09anchor.endTimer%3Dnull%3B%0A%09%09%0A%09%09anchor.style.background%3DLEO_HIGHLIGHTS_BACKGROUND_STYLE_HOVER%3B%0A%09%09%0A%09%09/*%20The%20element%20is%20already%20showing%20we%20are%20done%20*/%0A%09%09if%28anchor.shown%29%0A%09%09%09return%3B%0A%09%09%0A%09%09/*%20Setup%20the%20start%20timer%20if%20required%20*/%0A%09%09anchor.startTimer%3DsetTimeout%28function%28%29%7B%0A%09%09%09leoHighlightsHandleHover%28anchor.id%29%3B%0A%09%09%09anchor.hover%3Dtrue%3B%0A%09%09%09%7D%2C%0A%09%09%09LEO_HIGHLIGHTS_SHOW_DELAY_MS%29%3B%0A%09%7D%0A%09catch%28e%29%0A%09%7B%0A%09%09_leoHighlightsReportExeception%28%22leoHighlightsHandleMouseOver%28%29%22%2Ce%29%3B%20%20%20%09%0A%09%7D%0A%7D%0A%0A/**%0A%20*%20This%20will%20handle%20the%20mouse%20over%20setup%20timers%20for%20the%20appropriate%20timers%0A%20*%20%0A%20*%20@param%20id%0A%20*%20@return%0A%20*/%0Afunction%20leoHighlightsHandleMouseOut%28id%29%0A%7B%0A%09try%0A%09%7B%09%0A%09%09var%20anchor%3D_leoHighlightsFindElementById%28id%29%3B%0A%09%09%0A%09%09/*%20Clear%20the%20start%20timer%20if%20required%20*/%0A%09%09if%28anchor.startTimer%29%0A%09%09%09clearTimeout%28anchor.startTimer%29%3B%0A%09%09anchor.startTimer%3Dnull%3B%0A%09%09%0A%09%09anchor.style.background%3DLEO_HIGHLIGHTS_BACKGROUND_STYLE_DEFAULT%3B%0A%09%09if%28%21anchor.shown||%21anchor.hover%29%0A%09%09%09return%3B%0A%09%09%0A%09%09/*%20Setup%20the%20start%20timer%20if%20required%20*/%0A%09%09anchor.endTimer%3DsetTimeout%28function%28%29%7B%0A%09%09%09leoHighlightsHideElem%28LEO_HIGHLIGHTS_IFRAME_DIV_ID%29%3B%0A%09%09%09anchor.shown%3Dfalse%3B%0A%09%09%09_leoHighlightsPrevElem%3Dnull%3B%0A%09%09%09%7D%2CLEO_HIGHLIGHTS_HIDE_DELAY_MS%29%3B%0A%09%7D%0A%09catch%28e%29%0A%09%7B%0A%09%09_leoHighlightsReportExeception%28%22leoHighlightsHandleMouseOut%28%29%22%2Ce%29%3B%20%20%20%09%0A%09%7D%0A%7D%0A%0A/**%0A%20*%20This%20handles%20the%20mouse%20movement%20into%20the%20currently%20opened%20window.%0A%20*%20Just%20clear%20the%20close%20timer%0A%20*%20%0A%20*%20@return%0A%20*/%0Afunction%20leoHighlightsHandleIFrameMouseOver%28%29%0A%7B%0A%09try%0A%09%7B%0A%09%09if%28_leoHighlightsPrevElem%26%26_leoHighlightsPrevElem.endTimer%29%0A%09%09%09clearTimeout%28_leoHighlightsPrevElem.endTimer%29%3B%0A%09%7D%0A%09catch%28e%29%0A%09%7B%0A%09%09_leoHighlightsReportExeception%28%22leoHighlightsHandleIFrameMouseOver%28%29%22%2Ce%29%3B%20%20%20%09%0A%09%7D%0A%7D%0A%0A/**%0A%20*%20This%20handles%20the%20mouse%20movement%20into%20the%20currently%20opened%20window.%0A%20*%20Just%20clear%20the%20close%20timer%0A%20*%20%0A%20*%20@param%20id%0A%20*%20@return%0A%20*/%0Afunction%20leoHighlightsHandleIFrameMouseOut%28%29%0A%7B%0A%09try%0A%09%7B%0A%09%09if%28_leoHighlightsPrevElem%29%0A%09%09%09leoHighlightsHandleMouseOut%28_leoHighlightsPrevElem.id%29%3B%0A%09%7D%0A%09catch%28e%29%0A%09%7B%0A%09%09_leoHighlightsReportExeception%28%22leoHighlightsHandleIFrameMouseOut%28%29%22%2Ce%29%3B%20%20%20%09%0A%09%7D%0A%7D%0A/**%0A%20*%20This%20is%20a%20method%20is%20used%20to%20make%20the%20javascript%20within%20IE%20runnable%0A%20*/%0Avar%20leoHighlightsRanUpdateDivs%3Dfalse%3B%0Afunction%20leoHighlightsUpdateDivs%28%29%0A%7B%0A%09try%0A%09%7B%0A%09%09/*%20Check%20if%20this%20is%20an%20IE%20browser%20and%20if%20divs%20have%20been%20updated%20already%20*/%0A%09%09if%28document.all%26%26%21leoHighlightsRanUpdateDivs%29%0A%09%09%7B%0A%09%09%09leoHighlightsRanUpdateDivs%3Dtrue%3B%20//%20Set%20early%20to%20prevent%20running%20twice%0A%09%09%09for%28var%20i%3D0%3Bi%3CLEO_HIGHLIGHTS_MAX_HIGHLIGHTS%3Bi++%29%0A%09%09%09%7B%0A%09%09%09%09var%20id%3D%22leoHighlights_Underline_%22+i%3B%0A%09%09%09%09var%20elem%3D_leoHighlightsFindElementById%28id%29%3B%0A%09%09%09%09if%28elem%3D%3Dnull%29%0A%09%09%09%09%09break%3B%0A%09%09%09%09%0A%09%09%09%09if%28%21elem.leoChanged%29%0A%09%09%09%09%7B%0A%09%09%09%09%09elem.leoChanged%3Dtrue%3B%0A%09%09%09%09%0A%09%09%09%09%09/*%20This%20will%20make%20javaScript%20runnable%20*/%09%09%09%09%0A%09%09%09%09%09elem.outerHTML%3Delem.outerHTML%3B%0A%09%09%09%09%7D%0A%09%09%09%7D%0A%09%09%7D%0A%09%7D%0A%09catch%28e%29%0A%09%7B%0A%09%09_leoHighlightsReportExeception%28%22leoHighlightsUpdateDivs%28%29%22%2Ce%29%3B%20%20%20%09%0A%09%7D%0A%7D%0A%0Aif%28document.all%29%0A%09setTimeout%28leoHighlightsUpdateDivs%2C200%29%3B%0A%0A/**%0A%20*%20This%20is%20used%20to%20report%20events%20to%20the%20plugin%0A%20*%20@param%20key%0A%20*%20@param%20sub%0A%20*%20@return%0A%20*/%0Afunction%20leoHighlightsEvent%28key%2C%20sub%29%0A%7B%0A%20%20%20try%0A%20%20%20%7B%0A%20%20%20%20%20%20var%20gwObj%20%3D%20new%20Gateway%28%29%3B%0A%20%20%20%20%20%20gwObj.addParam%28%22key%22%2C%20key%29%3B%0A%20%20%20%20%20%20gwObj.addParam%28%22sub%22%2C%20sub%29%3B%0A%20%20%20%20%20%20gwObj.callName%28%22LeoHighlightsEvent%22%29%3B%09%0A%20%20%20%7D%0A%20%20%20catch%28e%29%0A%20%20%20%7B%0A%20%20%20%09_leoHighlightsReportExeception%28%22leoHighlights%28%29%22%2Ce%29%3B%20%20%20%09%0A%20%20%20%7D%0A%7D%0A%0A/*----------------------------------------------------------------------*/%0A/*%20Methods%20provided%20to%20the%20highlight%20providers...%20%20%20%20%20%20%20%20%20%20%20%20%20%20%20%20%20%20%20%20%20%20%20*/%0A/*----------------------------------------------------------------------*/%0A%0A/**%0A%20*%20This%20will%20redirect%20the%20top%20window%20to%20the%20passed%20in%20url%0A%20*%20%0A%20*%20@param%20url%0A%20*%20@param%20parentId%0A%20*%20@return%0A%20*/%0Afunction%20leoHL_RedirectTop%28url%2CparentId%29%0A%7B%0A%20%20%20try%0A%20%20%20%7B%0A%20%20%09%09leoHighlightsEvent%28%22clicked.2eBay%22%29%3B%0A%20%20%20%09_leoHighlightsRedirectTop%28url%29%3B%0A%20%20%20%7D%0A%20%20%20catch%28e%29%0A%20%20%20%7B%0A%20%20%20%09_leoHighlightsReportExeception%28%22leoHL_RedirectTop%28%29%22%2Ce%29%3B%20%20%20%09%0A%20%20%20%7D%0A%7D%0A%0A/**%0A%20*%20This%20will%20set%20the%20size%20of%20the%20iframe%0A%20*%20%0A%20*%20@param%20url%0A%20*%20@param%20parentId%0A%20*%20%0A%20*%20@return%0A%20*/%0Afunction%20leoHl_setSize%28size%2Curl%29%0A%7B%0A%20%20%20try%0A%20%20%20%7B%0A%20%20%20%09/*%20Get%20the%20clickId%20*/%0A%20%20%20%09var%20clickId%3D_leoHighlightsGetUrlArg%28%20url%2C%22clickId%22%29%0A%20%20%20%09%0A%20%20%20%20%20%20var%20gwObj%20%3D%20new%20Gateway%28%29%3B%0A%20%20%20%20%20%20gwObj.addParam%28%22size%22%2Csize%29%3B%0A%20%20%20%20%20%20if%28clickId%29%0A%20%20%20%20%20%20%20%20%20gwObj.addParam%28%22clickId%22%2CclickId+%22_blah%22%29%3B%0A%20%20%20%20%20%20gwObj.callName%28%22LeoHighlightsSetSize%22%29%3B%0A%20%20%20%7D%0A%20%20%20catch%28e%29%0A%20%20%20%7B%0A%20%20%20%09_leoHighlightsReportExeception%28%22leoHl_setSize%28%29%22%2Ce%29%3B%20%20%20%09%0A%20%20%20%7D%0A%7D%0A");