ODDS & ENDS - 2011
THE CANTICLE SINGERS
in an evening of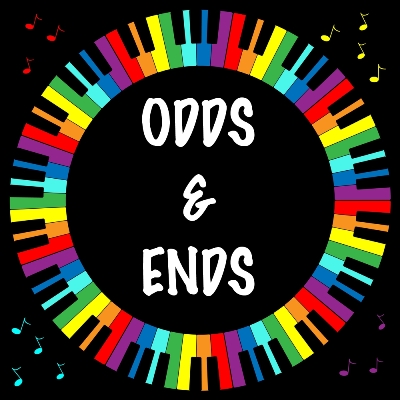 {flv popup="true" autostart="true" divid="oe01" width="640" height="480"}OE/oddsnends{/flv}{avrpopup type="lightbox" id="oe01"}Click here for a
multimedia trailer of the show{/avrpopup}
INTRODUCTION
Spend a fun and exhilarating evening with The Canticle Singers in an intimate studio concert setting, with a collection of their favorite odds and ends of lush choral arrangements, solos, duets and ensemble numbers. The repertoire offers selections from the world of pop, jazz, folk, spirituals, lounge, screen, musical theatre; from songwriters such as David Pomeranz, Burt Bacharach, Marcy Heisler & Zina Goldrich, Benj Pasek & Justin Paul, Ruth Elaine Schram, Andy Beck, Cole Porter, Claude-Michel Schonberg, Richard Rodgers and Oscar Hammerstein, Stephen Sondheim and others.
The Canticle Singers is an established and renown chorale with one of the most diverse repertoires in the country. Being an advanced community chorale it comprises individuals with a genuine passion for good music. The chorale has performed at major concert venues such as Istana Budaya, Panggung Bandaraya, University of Malaya.  In 2004, Do You Hear The People Sing? earned TCS a nomination for Best Group Performance - Voice under the Boh Cameronian Awards.  Most of its musical productions have served at benefit concerts for charitable causes in Malaysia and as well as in the Asian region including Thailand, Indonesia, Sri Lanka, Philippines and Pakistan.
ARTICLES & LISTINGS
The Star - 3rd Nov 2011
New Straits Times - 4th Nov 2011
The Edge (date)
Malaysia Most Wanted Event
Kakiseni
Time Out
Vision KL
Jom Event
Ilasso Tickets
THE CHORALE
Aliza Wong
Charity Lee
Keilly Lim
Shameela Chandran
Chan Wai Yee
Jasmine Lee
Brian Cheong
Andrew Lai
Samuel Goh
Low Tze Liang (Chorusmaster)
DATES
8.00pm Fri 4. Sat 5th & Sun 6th November 2011
VENUE
The Recital Hall, 4th Floor Wisma Bentley Music
3, Jln PJU 7/2, Mutiara Damansara,
47810 Petaling Jaya, Selangor, Malaysia
TICKETS & BOX OFFICE
RM38 & RM28 (for full time students) inclusive of ticket handling fees
Online Ticketing: www.ilassotickets.com
Ticket Hotline: +60 3 7957 6088
Outlets: Ilasso Tickets Sdn Bhd (Head Office),  Rock Corner 1 Utama,  Rock Corner MidValley, Rock Corner Subang Parade,  Rock Corner KLCC and
Rock Corner The Curve
VENUE SEATING
Get your tickets early as seating in the studio is limited to 150 at each performance and will be on a NUMBERED SEATING basis.
VENUE PARKING & TRAFFIC CONDITIONS
There are pay parking facilities at Wisma Bentley Music and the Tesco Supermarket directly opposite the building. Please allow generous travel time to the venue as traffic can be challenging especially on the weekends, depending on weather conditions and in the event of a special sale by one of anchor retail outlets in the vicinity. We would advise for you to arrive early enough to have dinner at one of the many nearby dining establishments in the area, before the show.
ELEVATOR ACCESS FOR PHYSICALLY CHALLENGED
Both basement parking levels 1 and 2 at Wisma Bentley Music feature direct elevator access to The Recital Hall.
A DINNER & SHOW NIGHT OUT
Be in time for the show at 8.00pm, Beat the stress by avoiding the traffic jam by ARRIVING EARLY and having dinner or a snack before our concert gig; at any of the many restaurants in the immediate vicinity of The Recital Hall, Wisma Bentley Music.
CRABTREE & EVELYN DISCOUNT
Members of the audience i.e. ticket holders of ODDS & ENDS will be entitled to a special 15% discount off regular priced products at Crabtree & Evelyn stores in Malaysia until 30 Nov 2011.  Crabtree & Evelyn have come up with an exclusive Pomegranate range of products for a limited period and you are encouraged to visit their stores soon. They have a great range of products are for both men and women.