"The aim and final reason of all music should be
 nothing else but the Glory of God and 
 the refreshment of the Spirit"
- J.S. Bach


{flv popup="true" autostart="true" divid="st01" width="640" height="480"}Bravissimo/tcs_bravissimo_trailer_640x480{/flv}{avrpopup type="lightbox" id="st01"}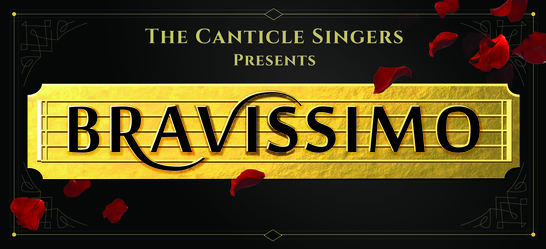 {/avrpopup}
Click image to view trailer
PREAMBLE
Several reactions may occur in response to the words "classical music".  Some may consider this to represent a facet of expression for a cultural group; while others think classical music is the domain of a pretentious elite class of people and still more could express indifference. People have created various forms of music throughout time and in recent history, social developments caused people to view this musical style as a higher form that is inaccessible to a large portion of the population. However, this does not and should not have to be the case. Classical music concerts, like much of the performing arts, provide an outlet for musicians to share creations and viewpoints with the world while educating others about aspects of culture that can expand the audience's worldview, especially in this increasingly interconnected global society.

Hence it is may be rather strange for classical music and non-classical music to share the same stage. These different music art forms perhaps share many more similarities than differences, that their respective protagonists would like to claim that set them apart and no one form should boast of its perceived superiority over the other.   BRAVISSIMO is an attempt to bring together both art forms even if only for the duration of an hour and forty minutes and accord  listeners, the opportunity of just sitting back and enjoying a seamless tapestry of both art forms.
BRAVISSIMO
BRAVISSIMO showcases some of the best loved music from worlds of opera, film, stage and Broadway. The repertoire features music from The Barber of Seville, Carousel, Gianni Schicchi, La Boheme, Les Miserables, The Lion King, The Magic Flute, Porgy and Bess, Rigoletto, Sweeney Todd, The Mission, The Merry Widow, West Side Story and others. Join us for an eclectic selection of familiar, well loved, heartwarming and inspiring melodies with broad audience appeal.
PATRON
His Excellency J Eduardo Malaya, the Philippine Ambassador to Malaysia is the Patron of BRAVISSIMO
TIME & DATES
8.30 PM Friday 29 & Saturday 30 August 2014
THEATRE VENUE
The Experimental Theatre, University of Malaya, Kuala Lumpur, Malaysia.

BRAVISSIMO is a benefit concert  in support of SUKA Society - Putting Children First, a registered non-governmental organization (ROS: 2504-10-SEL) dedicated to protect and preserve the best interests of children. SUKA Society's website http://www.sukasociety.org details its activities and training programs to enhance, rehabilitate and protect the quality of life of children.  .
THE PERFORMERS
SOLOISTS
Kay Balajadia-Liggayu, Soprano
Cipriano "Zip" De Guzman Jr, Baritone
Ang Mei Foong, Soprano
Yap Jin Hin, Tenor
Jane Soong Shin Yi, Soprano
Stefano Chen Ying Hao, Tenor

PIANIST
Lew Chen Shen

THE CONCERT CHORALE
Agnes Yeow Swee Kim
Amy Ng Wang Qi
Andrew Lai Chii Horng
Brian Cheong Chee Yoong
Calvin Chew Kah Heng
Chang Yow Keong
Chan Wai Yee
Cheryl Ong Hong Chiew
Chin Yi Ning
Chong Kin Kiat
Eugene Liew Jian Huang
Ivan Wong Kok Hoe
Ivy Chan Mun Ying
Joanne Poh Yuet Foong
Keilly Lim May Harn
Lam Chee Leong
Maxwell Sim Yik Seng
Ng You Qi
Pepa-Jean Mulhearn
Samuel Goh Min Tzung

HOST
Timothy Ooi Aik Tuan

ILASSO BOX OFFICE OPENS FRIDAY 25 JULY 2014
Please note that about 75% of the seats for Sat 30 August 2014 performance have already been pre-sold. There are very good seat selections for the Fri 29 August 2014 performance.
Tickets for all performances priced at RM68 for the mezzanine seats & RM88 for the stall seats (inclusive of RM3 Ilasso ticketing fee).  There is a low glass safety railing/parapet installed on the mezzanine level and you may be viewing the stage or parts of it through the parapet. Tickets are available from Ilasso Tickets Sdn Bhd via
Online: www.ilassotickets.com
Hotline: +60 3 7957 6088
iLasso Tickets HQ, A606, Block A, Phileo Damansara II,
15, Jalan 16/11, Off Jalan Damansara, 46350 Petaling Jaya.
Rock Corner Outlets at One Utama, The Gardens at MidValley, 
Subang Parade, KLCC & The Curve
Victoria Music Centre Outlets at Sungai Wang, Amcorp Mall & 
Tropicana City Mall
KL Live at Life Centre Kuala Lumpur
PJ Live Arts at Palm Square, Jaya One
CORPORATE PARTNERS
Kuala Lumpur Kepong Bhd
Berjaya Corporation Bhd
JS Concert Productions
Contango, Majestic Hotel KL
Pullman Kuala Lumpur Bangsar
Infoscreen
Redberry Ambient
3 Thirds Inc
Moving Walls
Oriental Group of Restaurants
Spark Manshop
Emcee Couture
Mehron Malaysia
Bentley Music
Philippine Long Distance Telephone Company
Yeo Hiap Seng
Fraser & Neave
Conoco Phllips
Music Room
ACCESS & VENUE PARKING
There is ample outdoor parking within the immediate vicinity of The Experimental Theatre which happens to adjoin Dewan Tengku Canselor, located within University of Malaya.  The University of Malaya is centrally and conveniently located and easily accessible either from Kuala Lumpur or Petaling Jaya.  Please allow generous travelling time if you are coming after work for the Friday evening performance and make a provision for changing weather conditions.
BACKGROUND OF TCS
The Canticle Singers, a voluntary community choir established in 1992, offers a choral repertoire that embraces a wide genre of music such as traditional classics, negro spirituals, folk, pop, jazz, rock, lounge, film, stage and Broadway. It has staged over 22 productions which have benefitted charities and deserving causes in Malaysia, Indonesia, Thailand, Sri Lanka, Pakistan and the Philippines. The Canticle Singers won the Boh Cameronian Arts Award for group vocals for its production of "Odds & Ends" in 2011. In 1995 and 2012, the chorale was nominated for the same award for its productions of "Do You Hear the People Sing?" and "OVATION" respectively. In 2012, The Canticle Singers produced and hosted the world acclaimed Philippines Madrigal Singers (MADZ) in its first concert for the Klang Valley. The 50-year-old MADZ is the first choral group to have won the world choral Olympics twice and serves as a national icon for the Philippines.
BIODATA OF SOLOISTS
Kay Balajadia-Liggayu, Soprano
Kay, a graduate of University Philippines (UP) College of Music, was soprano soloist in the UP Concert Chorus in 1992 and 1994. In 1996, she was national champion of the National Music Competition for Young Artists (NAMCYA) and participated in the Francisco Viňas International in 1997. She has interpreted leading roles such as Mikaela (twice) in the Peter Brooks Filipino adaptation of Bizet's Carmen with the Philippine Opera Company and also with Lyricopera Philippines, Inc; Josephine Bracken in Pajaro's Binhi ng Kalayaan; Miriam in Molina's Bulaklak ng Kabundukan; Matilde in Ylagan's Sundalong Kapitan; Anang in Ana Maria by Arturo Molina and Violetta in an adaptation of La Traviata. Kay has also performed in Musicartes' Madame Butterfly conducted by Maestro Jae Jung Lee.
She was in Handel's Messiah with the UST Symphony Orchestra conducted by Maestro Jerome Hoberman in the International Festival of the Baguio City Cathedral. She sang soprano solo in Vivaldi's Gloria conducted by Prof. Rey T. Paguio; Rossini's Petite Messe Solenelle; John Rutter's Magnificat, Mozart's Exultate Jubilate, Rutter's Gloria and Mahler's 8th Symphony with the Philippine Philharmonic Orchestra with Maestro Ruggiero Barbiero at the 5th and 6th San Agustin International Music Festival in San Agustin Church. At the Las Pinas Bamboo Organ Festival 2011 she was lead solo for the Philippine premiere of Rutter's Mass for the Children.
Her recording credits include Tula ni Oryang set to music by Cristine Muyco in the album Pluma, songs with Noel Cabangon in his album Paghahandog and the Oratorio Aria Rejoice from Messiah in the album of tenor Juan Alberto Gaerlan.  A regular featured soloist at the annual Christmas Concert in the Manila Peninsula with the Philippine Philharmonic Orchestra, she has also been performing in their outreach programmes.
Kay has attended masterclasses by Terence McNally, Philippine Soprano Evelyn Mandac and Tenor Arthur Espiritu. Her post-graduate studies include sessions with Juan Alberto Gaerlan, Camille Lopez-Molina, Fides Cuyugan Asensio, Irma Potenciano and Randy Gilongo and acting workshops with Laurice Guillen. Currently, Kay is mentored by Filipino-American Tenor Arthur Espiritu and taking her Master's Degree in Music Performance at the Philippine Women's University under Professors Mercedes Dugan and Fides Cuyugan Asensio.
Kay is also a practising lawyer in the Philippines and a mother of three.
Cipriano "Zip" De Guzman Jr, Baritone
Zip graduated with distinction in communication arts from the University of East Manila and in music education with minor in piano (cum laude) at the Pontifical and Royal University of Santo Tomas (UST) Conservatory of Music under Maestra Irma Ponce-Enrile Potenciano and is now completing his third degree in music with minor in choral conducting at the UST Conservatory of Music under Prof. Fidel Calalang Jr and operatic bass Jun Francis Jaranilla respectively. He is a recipient of the Klassikal Music Foundation scholarship.
He was awarded the "Ambassador's Recognition for Excellence in Music" by H.E. Eduardo Malaya on October 2013 after performing at the SOHOM in Kuala Lumpur, Malaysia. The New Straits Times Malaysia lauded him as Escamillo in Bizet's Carmen at the Black Box MAP Publika from October 29-November 3, 2013 in Kuala Lumpur, Malaysia.  The Philippine Star (April 3, 2014) says "the outstanding baritone Cipriano de Guzman, displayed a remarkably full, rounded, resonant voice and a strong personality. He was superb" as Frederic in the opera Lakme at the UP College of Music. He recently performed with Singaporean singer/songwriter Bevlyn Khoo in April 29, 2014 in a charity fashion show and with Filipino singer/songwriter Jim Paredes at the Embassy of the Philippines in Kuala Lumpur last April.
He played Marquis D'Obigny in La Traviata with renowned Filipino and Korean singers under the baton of Maestro Jae Joon-Lee in March 2012. He was part of several operas, oratorios and sarswelas such as UST's Eugene Onegin (September 2006), Love Unspoken (2010), and Cavalleria Rusticana (January 2011). He was also a chorister in the annual concerts of the UST Conservatory of Music (2008-2012),UST Christmas Concerts (2008-2012), Madz (2001-2011), UST Humanities Concert (2008),Quadricentenntial Opening Celebration (2011) and NeoCentennial Celebration (2012).
Zip has adjudicated in solo vocal and choral competitions and given music education, vocal and choral workshops in the Philippines and Singapore and is active in charity works and benefit shows for different foundations and churches. He has participated in masterclasses and vocal coaching of Korean baritone Dae San No, HongKong Academy's Nancy Yuen, US-based Filipino baritone Andrew Fernando, Malaysian operatic bass-baritone Chi Hoe Mak, mezzo soprano Agnes Barredo-Fenoli, American mezzo soprano Victoria Rapanan, renowned Filipino-American tenor Arthur Espiritu, Vienna-based tenor Abdul Candao, Italian tenor Gian Luca Passolini, Canadian soprano Megan Skidmore, Paris-based Florence Guignolet, Italian soprano Dr.Michela Bertagnolli-Febvre and Lyon-based conductor Maestro Florian Caroubi.
He hosted the Earth Hour Celebration 2014 in Manila, and the Paco Park Presents and Concert at the Park of National Broadcasting Network (NBN 4). As choral conductor, he recently led the Festival Chorus of the Colors of Worship Year 8 at the University of the Philippines in April 2014. He also conducted the Coro Omnia Deo at the Araneta Coliseum for the Holy Week Retreat of the Catholic Church with Auxilliary Bishop Teodor Bacani Jr.
As a former member of the University of the East Chorale, Manila Chamber Singers and Kammerchor Manila, Zip has toured Italy, France, Austria, Germany, Czech Republic, Hongkong and Canada. While touring with NeoNocturne, he won seven medals at the 52nd Concorso Internazionale Di Canto Corale Seghizzi 2013 in Gorizzia, Italy. As vocal coach and chorister with the Manila Chamber Singers in Canada, he won two first places (contemporary and folklore) and a second place (mixed category) at the XV Kathaumixw International Choral Competition 2012 in British Columbia, Canada.
A member of the International Society of Music Educators (Australia), Philippine Choral Directors Association, Philippine Society of Music Educators, Philippine Organization of Classical Singers and Koro Filipino, Zip is a licensed music teacher and vocal instructor at the UST Conservatory of Music. The first Filipino opera scholar at the Birmingham City University, UK, he is pursuing a master's in vocal performance and pedagogy.
Ang Mei Foong, Soprano
A Kuala Lumpur girl, Ang Mei Foong graduated from the National Taiwan Normal University where she learned vocal performance with Prof. Ren Rong, and piano performance under Prof. Li Wei-Wei. In 2003, after winning the university vocal competition, she entered the Conservatorio di Musica Santa Cecilia, Rome, where Maestro Rebecca Berg introduced her to a wide variety of Italian vocal music and operatic studies. Named as "The young talented singer" in the World Chinese Vocalist competition 2003 during her studies in Italy, she subsequently received scholarships to pursue her Master of Music (MMus- Performance) in the University of Melbourne, under the guidance of Merlyn Quaife, where she was further grounded in the interpretation of German and French art songs as well as chamber works.
Mei Foong has given well received solo recitals in Kuala Lumpur, Taiwan, Rome and Melbourne, where she performed Robert Schumann's Frauenliebe und Leben, Gabriel Faure's La Bonne Chanson, Richard Strauss's Four Last Songs, Aldo Finzi's Art-Songs, Alban Berg's Sieben frühe Lieder, Joseph Canteloube's Chant's d'auvergne and many other chamber music and operatic repertoires.
An advocate of contemporary music, she premièred compositions by Malaysian composer Ms. Au Yang Yao Chih in Hong Kong in 2009 and 2010. She also premièred a new composition Triptych by Mr. Wong Chee Yean with the Malaysian Philharmonic Orchestra (MPO) at Dewan Filharmonik Petronas under the baton of Kevin Field in 2010. In 2012, she premièred a series of new art-songs by Malaysian composers Mr. Wong Chee Yean, Mr. Wong Chee Wei, and Mr. Neo Hup Hiang respectively.
In 2013, Mei Foong ventured into a bold new repertoire and embarked on a new phase of her career when making her Malaysian opera debut in the title role of Carmen which was warmly received at the MAP Black Box, Publika, Kuala Lumpur, Malaysia.
As education has been an important part of her career, she now lectures at the Music Department in University Putra Malaysia (UPM). In the field of music education, she presented a research paper on "A Survey Report on the Present State of Music Education in the Chinese Private High Schools in Malaysia" at the Asia Pacific Symposium of Music Education Research (APSMER) in 2007. She is now researching multiculturalism in music education.
Yap Jin Hin, Tenor
Yap Jin Hin recently completed his Doctor of Musical Arts degree at Louisiana State University (LSU). A protégé of the noted American tenor, Robert Grayson, Yap has appeared in leading roles with a number of opera companies in the USA.  Among his performances are Anatol in Vanessa with the Nevada Opera; Count Almaviva in The Barber of Seville; Tamino in The Magic Flute with both Opera Louisiane and the Acadiana Symphony. In 2012 he performed as Rodolfo in La Bohème with Opera in the Ozarks. At the Italian festival La Musica Lirica he sang Alfredo in La Traviata. His wide-ranging repertoire includes performances of Don Ramiro in La Cenerentola, the title role in Romeo et Juliet, and the Narrator (Male Chorus) in Britten's The Rape of Lucretia.
He has also been active on the concert stage with appearances as featured soloist with the Baton Rouge Symphony and the Lake Charles Handel Society in Messiah; with the LSU Symphony in Rossini's Stabat Mater; and with the McNeese University Orchestra and Choirs in Dubois' The Seven Last Words of Christ.
A veteran of two young artist programs -- Chicago Opera Theater and the Des Moines Metro Opera --Yap was a regional finalist in the Metropolitan Opera Auditions and a recipient of the Paul Groves Scholarship, named for the famed international tenor whose birthplace is Louisiana, and the Frances Greer Award, given by the estate of the renowned Metropolitan soprano.
Yap is currently heading the music department at the UM, and remains an active performer in Malaysia and Singapore. He performed the role of Jon José in Carmen with the Eat, Sing and Travel People in Kuala Lumpur last year.
Jane Soong, Soprano
Born in Seremban, Malaysia, Jane Soong graduated with a Master of Music from Louisiana State University in May 2011. Trained under Professor Robert Grayson, she performed as Michaëla in Carmen, Yum Yum in Mikado, Agnus Day in The Little Red Hen. She was the soprano soloist in Fauré's Requiem with the University's United Methodist Church. In summer 2012, she was apprentice artist for the Opera in the Ozarks Summer Program, and performed as the First Lady in Mozart's Die Zauberflöte and Mrs. Segstrom in Stephen Sondheim's The Little Night Music.
She began music studies at the Yamaha Music School in Seremban at the age of six and won awards in singing competitions. Besides vocal training under Ms. Yeoh Kong Liew, she obtained grade eight in piano performance. While at Chan Wa High School, she was active in the choir and wind orchestra. In 2003, she continued voice studies with Mr. Woon Chi Choong, and attained grade eight certification for vocal performance from Trinity College. In 2004, she performed at the Trinity College commencement ceremony.
In 2006, while an undergraduate at the University of Malaya (UM), she was involved in various concerts and won third place in the National Classical Songs Singing Competition. She also performed frequently at the Yamaha Music School Concerts and the annual music showcase of UM. In 2007, Dr. Ayob Ibrahim invited her to perform at the Festival Gendang Malaysia. In April 2009, she held her first solo recital in DBKL and graduated from UM.
Ms. Soong is currently a vocal instructor at UM and is actively involved with the vocal performing arts in Malaysia. She performed the role of Micaela in Carmen and the Viva Verdi Bicentenary Celebration organized by the Eat, Sing and Travel People last year.
Stefano Chen, Tenor
Vocalist Stefano Chen trained at the Beijing Central Conservatory of Music (1996-2001) and at the China National Opera House ( 2001-2003). His vocal coach Xinna Wang was one of the best tenors in the 1980s China opera scene. During his training in Beijing, Stefano performed recitals in Italian and Chinese.
In 2000, he produced a jazz album entitled Bop Within which received good reviews by the local media in China. In 2002, Chen assisted China's television station CCTV to produce a promotional music album of both Chinese and English songs for the 2008 Beijing Olympic Games Bidding campaign. His work included guiding popular singers such as Guoqing Sun, Baoling Sha, Fan Ye and Rong Guo in diction for songs in English. In 2004, as a professional music producer, Chen collaborated with the China Record Company to publish a music album called, A Mountain Hut in Autumn Dusk. The album consists of famous poems of the Tang and Song Dynasties sung to the accompaniment of guzheng (Chinese zither) music performed by Professor Yun Qu, renowned for her zither skill in the world of Chinese classical music.
Before returning to Malaysia in 2008, Chen produced and recorded an audiophile album Guilty Pleasure in China and a Chinese New Age album entitled Beijing, The Voices. In Dec 2010, Stefano was invited by YTL Group to perform at Starhill Gallery, A Journey Through Time IV. Now based in Kuala Lumpur, Chen is a freelance vocal coach, music producer and professional singer.