VIDEO & SOUND SEGMENTS

some of our work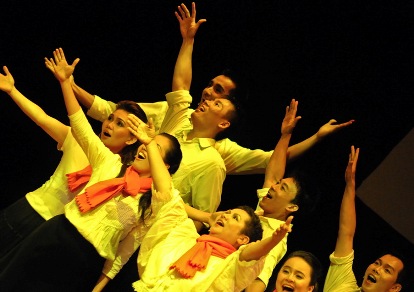 This section attempts to provide you an idea of our repertoire as well as one of our exposure trips to the Philippines. Although still a work in progress, much of this section is already functional and up and running as our archived materials are being converted and uploaded progressively for your listening and viewing pleasure.
Bear in mind that our original recording conditions were not ideal and that these sound and video segments have not been edited in any way.
Please be patient as the content loads on to your computer as some of the files are a bit larger due to the corresponding length of the performance numbers. The quality and speed of your internet connection will also influence your waiting time.

EVENT/PRODUCTION

AND YEAR




SELECTED

NUMBERS

MEDIA

Be Our Guest - 2009

1

Be Our Guest

2

Baba Yetu




3

Hola Lola

{flv popup="true" autostart="true" divid="bog03" width="320"
height="240"}BOG/lola{/flv}{avrpopup type="lightbox" id="bog03"}Video{/avrpopup}




4

Sweeney Todd Medley


{flv popup="true" autostart="true" divid="bog04" width="320"
height="240"}BOG/sweeney{/flv}{avrpopup type="lightbox" id="bog04"}Video{/avrpopup}




5

Nella Fantasia


{flv popup="true" autostart="true" divid="bog05" width="320"
height="240"}BOG/nella{/flv}{avrpopup type="lightbox" id="bog05"}Video{/avrpopup}




6

Rodgers & Hammerstein on Broadway


{flvremote popup="true" autostart="true" divid="bog06" width="320"
height="80"}http://www.thecanticlesingers.com/images/stories/videos/BOG/broadway.mp3{/flvremote}{avrpopup type="lightbox" id="bog06"}Audio{/avrpopup}













Workshop: Philippine

Madrigal Singers, 2008

1

TCS trio at choir loft of St Augustine Church

{flv popup="true" autostart="true" divid="videoa01" width="320" height="240"}MADZWS/01-madzws{/flv}{avrpopup type="lightbox" id="videoa01"}Video{/avrpopup}




2

Excerpt by a Filipino choir at Workshop, CCP

{flv popup="true" autostart="true" divid="videoa02" width="320" height="240"}MADZWS/02-madzws{/flv}{avrpopup type="lightbox" id="videoa02"}Video{/avrpopup}




3

TCS Trio at the Workshop, CCP

{flv popup="true" autostart="true" divid="videoa03" width="320" height="240"}MADZWS/03-madzws-2{/flv}{avrpopup type="lightbox" id="videoa03"}Video{/avrpopup}




4

Philippine Madrigal Singers rehearse at CCP

{flv popup="true" autostart="true" divid="videoa04" width="320" height="240"}MADZWS/04-madzws-2{/flv}{avrpopup type="lightbox" id="videoa04"}Video{/avrpopup}




5

TCS & UP Medical Choir sing Ave Maris Stella

{flv popup="true" autostart="true" divid="videoa05" width="320" height="240"}MADZWS/05-madzws{/flv}{avrpopup type="lightbox" id="videoa05"}Video{/avrpopup}




6

Philippine Madrigal Singers sing Paraiso

{flv popup="true" autostart="true" divid="videoa06" width="320" height="240"}MADZWS/06-madzws{/flv}{avrpopup type="lightbox" id="videoa06"}Video{/avrpopup}




7

TCS with the Grand Choir sing Kyrie Eleison

{flv popup="true" autostart="true" divid="videoa07" width="320" height="240"}MADZWS/07-madzws{/flv}{avrpopup type="lightbox" id="videoa07"}Video{/avrpopup}




8

TCS with the Grand Choir sing Siyahamba

{flv popup="true" autostart="true" divid="videoa08" width="320" height="240"}MADZWS/08-madzws{/flv}{avrpopup type="lightbox" id="videoa08"}Video{/avrpopup}













A Grand Night for Singing - 2007

1

Bridge Over Troubled Water

{flv popup="true" autostart="true" divid="agnfs01" width="320" height="240"}AGNFS/bridge{/flv}{avrpopup type="lightbox" id="agnfs01"}Video{/avrpopup}




2

Bohemian Rhapsody

{flv popup="true" autostart="true" divid="agnfs02" width="320" height="240"}AGNFS/queen{/flv}{avrpopup type="lightbox" id="agnfs02"}Video{/avrpopup}




3

September

{flv popup="true" autostart="true" divid="agnfs03" width="320" height="240"}AGNFS/september{/flv}{avrpopup type="lightbox" id="agnfs03"}Video{/avrpopup}













For the Love of Music - 2007

1

For the Love of Music

{flv popup="true" autostart="true" divid="ftlom01" width="320" height="240"}FTLOM/01.forthelove{/flv}{avrpopup type="lightbox" id="ftlom01"}Video{/avrpopup}




2

Soon It's Gonna Rain

{flv popup="true" autostart="true" divid="ftlom02" width="320" height="240"}FTLOM/02.soonrain{/flv}{avrpopup type="lightbox" id="ftlom02"}Video{/avrpopup}




3

Ride the Chariot

{flv popup="true" autostart="true" divid="ftlom03" width="320" height="240"}FTLOM/03.chariot{/flv}{avrpopup type="lightbox" id="ftlom03"}Video{/avrpopup}




4

Summertime

{flv popup="true" autostart="true" divid="ftlom05" width="320" height="240"}FTLOM/05.summertime{/flv}{avrpopup type="lightbox" id="ftlom05"}Video{/avrpopup}




5

Mama Mia Medley

{flv popup="true" autostart="true" divid="ftlom06" width="320" height="240"}FTLOM/06.mamamia.flv{/flv}{avrpopup type="lightbox" id="ftlom06"}Video{/avrpopup}




6

The Light in the Piazza

{flv popup="true" autostart="true" divid="ftlom07" width="320" height="240"}FTLOM/07.lightinthepiazza{/flv}{avrpopup type="lightbox" id="ftlom07"}Video{/avrpopup}




7

Bohemian Rhapsody

{flv popup="true" autostart="true" divid="ftlom09" width="320" height="240"}FTLOM/09.bohemian{/flv}{avrpopup type="lightbox" id="ftlom09"}Video{/avrpopup}




8

Exulate Justi In Domino

{flv popup="true" autostart="true" divid="ftlom10" width="320" height="240"}FTLOM/10.exultate{/flv}{avrpopup type="lightbox" id="ftlom10"}Video{/avrpopup}













Presentation at PJGH - 2007

1

Worthy of Glory

{flv popup="true" autostart="true" divid="audioa1" width="320" height="80"}GasingConcert/01 - gasing recordings track 1{/flv}{avrpopup type="lightbox" id="audioa1"}Audio{/avrpopup}




2

Oh Mighty Cross

{flv popup="true" autostart="true" divid="audioa2" width="320" height="80"}GasingConcert/02 - gasing recordings track 2{/flv}{avrpopup type="lightbox" id="audioa2"}Audio{/avrpopup}




3

Hallowed Be Thy Name

{flv popup="true" autostart="true" divid="audioa3" width="320" height="80"}GasingConcert/03 - gasing recordings track 3{/flv}{avrpopup type="lightbox" id="audioa3"}Audio{/avrpopup}




4

Doxology (Jimmy Owens)

{flv popup="true" autostart="true" divid="audioa4" width="320" height="80"}GasingConcert/04 - gasing recordings track 4{/flv}{avrpopup type="lightbox" id="audioa4"}Audio{/avrpopup}




5

Joyful, Joyful We Adore

{flv popup="true" autostart="true" divid="audioa5" width="320" height="80"}GasingConcert/05 - gasing recordings track 5{/flv}{avrpopup type="lightbox" id="audioa5"}Audio{/avrpopup}




6

Now Unto Him Who Is Able

{flv popup="true" autostart="true" divid="audioa6" width="320" height="80"}GasingConcert/06 - gasing recordings track 6{/flv}{avrpopup type="lightbox" id="audioa6"}Audio{/avrpopup}













Refugee:Images, The Musical - 2006

1

Morning in Night

{flv popup="true" autostart="true" divid="min00" width="320" height="240"}MIN/min_00{/flv}{avrpopup type="lightbox" id="min00"}Video{/avrpopup}




2

For the Last Time

{flv popup="true" autostart="true" divid="min02" width="320" height="240"}MIN/min_02{/flv}{avrpopup type="lightbox" id="min02"}Video{/avrpopup}




3

Thank God It's Friday

{flv popup="true" autostart="true" divid="min03" width="320" height="240"}MIN/min_03{/flv}{avrpopup type="lightbox" id="min03"}Video{/avrpopup}




4

Pulau Bidong/Cafe Bidong

{flv popup="true" autostart="true" divid="min04" width="320" height="240"}MIN/min_04{/flv}{avrpopup type="lightbox" id="min04"}Video{/avrpopup}




5

Here We'll Understand You

{flv popup="true" autostart="true" divid="min05" width="320" height="240"}MIN/min_05{/flv}{avrpopup type="lightbox" id="min05"}Video{/avrpopup}




6

We Will Not Mourn

{flv popup="true" autostart="true" divid="min06" width="320" height="240"}MIN/min_06{/flv}{avrpopup type="lightbox" id="min06"}Video{/avrpopup}




7

I'm a Nothing Stranger

{flv popup="true" autostart="true" divid="min07" width="320" height="240"}MIN/min_07{/flv}{avrpopup type="lightbox" id="min07"}Video{/avrpopup}




8




{flv popup="true" autostart="true" divid="min09" width="320" height="240"}MIN/min_09{/flv}{avrpopup type="lightbox" id="min09"}Video{/avrpopup}




9

Refugee

{flv popup="true" autostart="true" divid="min08" width="320" height="240"}MIN/min_08{/flv}{avrpopup type="lightbox" id="min08"}Video{/avrpopup}













The Season of Light - 2004

1

Prologue, with Comfort Ye

{flv popup="true" autostart="true" divid="audiob1" width="320" height="80"}TheSeasonofLight/01 track 1{/flv}{avrpopup type="lightbox" id="audiob1"}Audio{/avrpopup}




2

Everlasting Light with O Little Town Of Bethlehem, Silent Night, Hark The Herald Angels Sing & O Come All Ye Faithful

{flv popup="true" autostart="true" divid="audiob2" width="320" height="80"}TheSeasonofLight/02 track 2{/flv}{avrpopup type="lightbox" id="audiob2"}Audio{/avrpopup}




3

He Shall Feed His Flock

{flv popup="true" autostart="true" divid="audiob3" width="320" height="80"}TheSeasonofLight/03 track 3{/flv}{avrpopup type="lightbox" id="audiob3"}Audio{/avrpopup}




4

O Come All Ye Faithful with congregation

{flv popup="true" autostart="true" divid="audiob4" width="320" height="80"}TheSeasonofLight/04 track 4{/flv}{avrpopup type="lightbox" id="audiob4"}Audio{/avrpopup}




5

Prepare Him Room with Joy To The World Hark The Herald Angels Sing Every Valley & Good Christian Men Rejoice

{flv popup="true" autostart="true" divid="audiob5" width="320" height="80"}TheSeasonofLight/05 track 5{/flv}{avrpopup type="lightbox" id="audiob5"}Audio{/avrpopup}




6

O Come, O Come Emmanuel (with congregation)

{flv popup="true" autostart="true" divid="audiob6" width="320" height="80"}TheSeasonofLight/06 track 6{/flv}{avrpopup type="lightbox" id="audiob6"}Audio{/avrpopup}




7

O Happy Day with Go Tell It On The Mountain Glory Be To God On High & AMEN

{flv popup="true" autostart="true" divid="audiob7" width="320" height="80"}TheSeasonofLight/07 track 7{/flv}{avrpopup type="lightbox" id="audiob7"}Audio{/avrpopup}




8

Tiny Hand In Mine

{flv popup="true" autostart="true" divid="audiob8" width="320" height="80"}TheSeasonofLight/08 track 8{/flv}{avrpopup type="lightbox" id="audiob8"}Audio{/avrpopup}




9

Away In A Manger

{flv popup="true" autostart="true" divid="audiob9" width="320" height="80"}TheSeasonofLight/09 track 9{/flv}{avrpopup type="lightbox" id="audiob9"}Audio{/avrpopup}




10

Worship Him

{flv popup="true" autostart="true" divid="audiob10" width="320" height="80"}TheSeasonofLight/10 track 10{/flv}{avrpopup type="lightbox" id="audiob10"}Audio{/avrpopup}




11

Little Yeshua

{flv popup="true" autostart="true" divid="audiob11" width="320" height="80"}TheSeasonofLight/11 track 11{/flv}{avrpopup type="lightbox" id="audiob11"}Audio{/avrpopup}




12

My Eyes Have Seen Your Salvation & Come Thou Long-Expected Jesus

{flv popup="true" autostart="true" divid="audiob12" width="320" height="80"}TheSeasonofLight/12 track 12{/flv}{avrpopup type="lightbox" id="audiob12"}Audio{/avrpopup}




13

Thou Didst Leave Thy Throne

{flv popup="true" autostart="true" divid="audiob13" width="320" height="80"}TheSeasonofLight/13 track 13{/flv}{avrpopup type="lightbox" id="audiob13"}Audio{/avrpopup}




14

Let Them See Christ In Me

{flv popup="true" autostart="true" divid="audiob14" width="320" height="80"}TheSeasonofLight/14 track 14{/flv}{avrpopup type="lightbox" id="audiob14"}Audio{/avrpopup}




15

Silent Night (with congregation)

{flv popup="true" autostart="true" divid="audiob15" width="320" height="80"}TheSeasonofLight/15 track 15{/flv}{avrpopup type="lightbox" id="audiob15"}Audio{/avrpopup}




16

Make His Praise Glorious

{flv popup="true" autostart="true" divid="audiob16" width="320" height="80"}TheSeasonofLight/16 track 16{/flv}{avrpopup type="lightbox" id="audiob16"}Audio{/avrpopup}




17

Finale with Arise and Shine Hark the Herald Angel Sing Everlasting Light

{flv popup="true" autostart="true" divid="audiob17" width="320" height="80"}TheSeasonofLight/17 track 17{/flv}{avrpopup type="lightbox" id="audiob17"}Audio{/avrpopup}




18

Encore - I Will Praise You

{flv popup="true" autostart="true" divid="audiob18" width="320" height="80"}TheSeasonofLight/18 track 18{/flv}{avrpopup type="lightbox" id="audiob18"}Audio{/avrpopup}













Do You Hear the People Sing? - 2004

1

O Sifuni Mungu

{flv popup="true" autostart="true" divid="dyhtps00" width="320" height="240"}DYHTPS/Movie_0000{/flv}{avrpopup type="lightbox" id="dyhtps00"}Video{/avrpopup}




2

O Happy Day!

{flv popup="true" autostart="true" divid="dyhtps01" width="320" height="240"}DYHTPS/Movie_0001{/flv}{avrpopup type="lightbox" id="dyhtps01"}Video{/avrpopup}




3

Joseph and the Technicolour Dreamcoat

{flv popup="true" autostart="true" divid="dyhtps03" width="320" height="240"}DYHTPS/Movie_0003{/flv}{avrpopup type="lightbox" id="dyhtps03"}Video{/avrpopup}




4

Phantom of the Opera

{flv popup="true" autostart="true" divid="dyhtps04" width="320" height="240"}DYHTPS/Movie_0004{/flv}{avrpopup type="lightbox" id="dyhtps04"}Video{/avrpopup}




5

Les Miserables

{flv popup="true" autostart="true" divid="dyhtps05" width="320" height="240"}DYHTPS/Movie_0005{/flv}{avrpopup type="lightbox" id="dyhtps05"}Video{/avrpopup}




6

Somewhere

{flv popup="true" autostart="true" divid="dyhtps06" width="320" height="240"}DYHTPS/Movie_0006{/flv}{avrpopup type="lightbox" id="dyhtps06"}Video{/avrpopup}




7

One Hand One Heart

{flv popup="true" autostart="true" divid="dyhtps07" width="320" height="240"}DYHTPS/Movie_0007{/flv}{avrpopup type="lightbox" id="dyhtps07"}Video{/avrpopup}




8

You'll Never Walk Alone

{flv popup="true" autostart="true" divid="dyhtps08" width="320" height="240"}DYHTPS/Movie_0008{/flv}{avrpopup type="lightbox" id="dyhtps08"}Video{/avrpopup}