FOR THE LOVE OF MUSIC - 2007
FOR THE LOVE OF MUSIC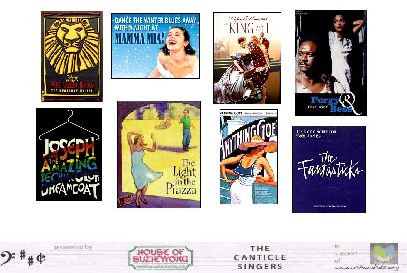 Show Information
The Canticle Singers and House of Suzie Wong presented For the Love of Music with selections and choral arrangements from Broadway musicals such as  "Joseph and the Technicolour Dream Coat", "The Lion King", "Mamma Mia", "Light in the Piazza", "Anything Goes", "The King and I",  "Porgy and Bess" amongst others.
There were two performances of For the Love of Music, on Saturday 21st and Sunday 22nd July 2007, 8p.m. at House of Suzie Wong, Muse Floor, Starhill Gallery. Tickets were priced at  RM150 inclusive of supper. There was  also an auction at the end of each performance we enjoyed full houses on both evenings.  Proceeds from the show and auction went to Rumah Nur Salam to support its work for disadvantaged and displaced children in the Chow Kit area. Contact Information:  Ken or Su at (603) 2143 3220
A repeat performance of For the Love of Music, was held at 8.p.m. Sunday 29 July 2007 at Mission House,  Petaling Jaya Gospel Hall, for the benefit of our friends and associates who were unable to make it to the fund raising performances for Rumah Nur Salam.  Once again we had a full house.
Program Notes
REPERTOIRE
Part 1
1.  For the Love of Music
by Russell Robinson


2.  Joseph & the Technicoloured Dreamcoat  

by Andrew Lloyd Webber and Tim Rice
arranged by Roger Emerson

3.  Soon It's Gonna Rain
by Harvey Schmidt and Tom Jones
arranged by Kirby Shaw

4.  Blow Gabriel Blow
by Cole Porter and Philip Kern

5.  Bridge Over Troubled Water
by Simon and Garfunkel

6.   Ride the Chariot
by William Henry Smith
7.  Something Wonderful
by Rodgers and Hammerstein

8.  The Lion King Medley
by Elton John and Tim Rice
arranged by Mark Brymer
Part 2

9. We Give You Music
by Mary Lynn Lightfoot

10.   Summertime   

by George Gershwin, Du Bose,
Dorothy Heyward and Ira Gershwin
arranged by Russell Robinson

11.  Mamma Mia  Medley
by ABBA
arranged by Mac Huff

12.  If Ever I Would Leave You
by Frederick Loewe and Alan Jay Lerner     


13.  I Have Dreamed,
by Rodgers and Hammerstein
arranged by Kirby Shaw
14.  The Light in the Piazza
by Adam Guettel
arranged by John Purifoy
15. Broadway Blockbusters
by Mark Brymer
THE COMPANY
PRODUCTION TEAM
Wong Wing Thim & Kenneth Ooi