{flv popup="true" autostart="true" divid="st01" width="640" height="480"}OVATION/ovation{/flv}{avrpopup type="lightbox" id="st01"}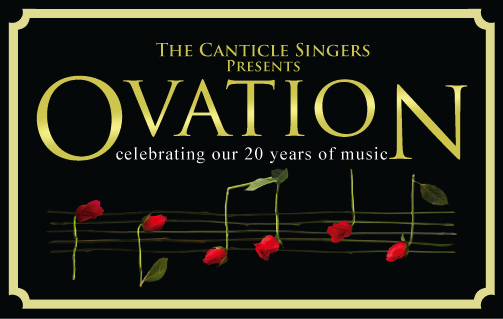 {/avrpopup}
Click image to view trailer
OUR 20TH ANNIVERSARY CONCERT CELEBRATION
The Canticle Singers ("TCS") celebrates its 20th Anniversary with the musical production OVATION at Panggung Bandaraya Kuala Lumpur at 8.30pm from Thursday 27 September 2012 to Sunday 7 October 2012, based on a production run of Thursdays through Sundays.

The repertoire will be performed by a cast of 25 and comprise an eclectic collection of challenging and inspiring choral arrangements and independent selections and feature the music of Alan Menken, Claude-Michel Schönberg, Christopher Tin, Elton John, Ennio Morricone, Freddy Mercury, George & Ira Gershwin, Goldrich and Heisler, Mark Hayes, Neil Bartram, Pasek and Paul, Ryan Cayabyab, Rossini, Stephen Flaherty, Stephen Sondheim, etc.. The pieces have been selected from the world of pop, classics, folk, spirituals, lounge, screen, musical theatre; from established works such as Porgy & Bess, Singing In The Rain, Miss Saigon, Into the Woods, The Lion King, The Story of My Life, Edges, Queen, etc. As part of the repertoire, a musical tribute will be paid to RJ Rosales, a leading and established Filipino-Australian actor/performer who passed away 2011 and who played the lead in Chang and Eng, acclaimed to be one of Asia's best locally composed musicals. 

TCS is honoured to have YB Dato' Dr Ng Yen Yen, Minister of Tourism of Malaysia as the Patron of OVATION and to have the support of Tourism Malaysia.

The production of OVATION is being done for the benefit of a children's charity Stepping Stones Living Centre, a residential facility with five centres for abandoned or disadvantaged children, located in Taman Seputeh, Kuala Lumpur. 



BACKGROUND OF TCS
TCS, is an accomplished voluntary community chorale and performing arts group established in 1992. It has 21 successful productions under its belt including A Grand Night for Singing in 2008, Two From Galilee (2009 revival), Be Our Guest in 2009, Shining Through in 2010, Odds & Ends in 2011 and which drew passionate audience responses. TCS probably offers one of the most extensive repertoires in the country. TCS comprises volunteer singers from all walks of life and different occupations, backgrounds and ages. There are teachers, bankers, accountants, students, business professionals, etc., who have varying levels of musical training and experience. Some singers study music privately with vocal teachers; while the rest serve as singers and/or musicians in their local communities. All the singers in our productions are volunteers and hence unpaid.

TCS won the award for Best Group Performance (Vocal) and nominated for Best Solo Performance (Vocal) at the 9th BOH Cameronian Arts Awards 2012, for its production of ODDS & ENDS in November 2011. In 2005, TCS was nominated for Best Group Performance (Voice) at the 3rd Boh Cameronian Arts Awards 2004 for its production Do You Hear the People Sing? in 2004.
CHOIRMASTER
Low Tze Liang
THE COMPANY
Agnes Yeow Swee Kim
Aliza Wong Yuh Wei 
Anatolia Chiam Sew Yang
Andrew Lai Chii Horng 
Betsy Yeo Wai Li
Brian Cheong Chee Yoong
Calvin Chew Kah Heng
Chan Wai Yee
Cheryl Ong Hong Chiew
Glenn Moico Aytona
Ivy Chan Mun Ying
Jason Cheong Tze Yeen
Jason Voon Kuan Chien 
Jasmine Lee Chian Hui 
Joanne Aw Siang May 
Joanne Poh Yuet Foong 
Keilly Lim May Harn
Kok Soo Aun
Patricia Ngo Kim Lan
Samuel Goh Min Tzung
TIME & DATES
8.30 PM 
Thursday 27 to Sunday 30 September 2012 
Thursday 4 to Sunday 7 October 2012
VENUE
Panggung Bandaraya, Kuala Lumpur, Malaysia.
BOX OFFICE OPENS 28 AUGUST 2012
Tickets for all performances priced at RM58 & RM78 (inclusive of RM3 Ilasso ticketing fee) available from Ilasso Tickets Sdn Bhd via
Online: www.ilassotickets.com
Hotline: +60 3 7957 6088
Ilasso Outlets :
ILasso Head Office
Rock Corner 1 Utama
Rock Corner MidValley
Rock Corner Subang Parade
Rock Corner KLCC
Rock Corner The Curve
T-Break Cafe Outlets Kompleks Antarabangsa
T-Break Cafe Outlets Menara Manulife
T-Break Cafe Outlets Quattro West
T-Break Cafe Outlets Dataran Kewangan Darul Takaful
CORPORATE PARTNERS
Kuala Lumpur Kepong Bhd
Berjaya Corporate Bhd
JW Marriott Kuala Lumpur
YTL Infoscreen
Focus Media
3Thirds Inc
Oriental Group of Restaurants
Stella-In International
CLIO
SONY
ACCESS & VENUE PARKING
There is an underground pay parking facility at Dataran Merdeka diagonally opposite the theatre and the entrance to the car park faces St Mary's Cathedral. Please allow generous travel time to the venue as traffic can be challenging during peak hours and depending on the weather. Free parking is available after office hours, along the riverbank opposite the theatre.
The Masjid Jamek interchange/station on the Ampang, Sri Petaling & Kelana Jaya LRT lines is a 5 minute walk from the theatre.
AUDITIONS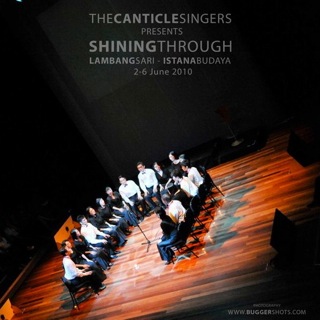 The Canticle Singers (TCS) is on the lookout for talented and dedicated singers. Interested candidates should have previously sung in standard SATB choral formation as well as mixed or random formation. The ability to read music will be an advantage.
Please note that we are looking for singers who are diligent with their homework and who are able to rehearse on their own and are teamworkers. Attitudes are to be left at home.
Kindly refer to this website to find out our modus operandi and what we expect of our performers. If you are comfortable with what you read, then click on "Auditions" on the left menu to complete and submit the online audition application form.
Further inquiries should be sent to This email address is being protected from spambots. You need JavaScript enabled to view it.
Note this email address is only for inquiries and NOT for the submission of audition applications.
TCS ON FACEBOOK
We now have a TCS fan page on Facebook entitled
The Canticle Singers, Malaysia
Click to visit our us on Facebook and sign up yourself as a fan then click on the command "Suggest to Friends" to invite all your friends on your contact list. We are trying to build up a data base of people interested in choral music and singing.
Please note that the Group page within Facebook entitled "The Canticle Singers" has been closed and removed.
USERNAMES & PASSWORDS
Registered TCS Members who have been issued Usernames and Passwords, will have access to the Members Only section which features a Notice Board, Rehearsal Schedule, Rehearsal Demos and Library. If you are a registered member and performing with us during the current season and do not have a Username and Password, please email us at This email address is being protected from spambots. You need JavaScript enabled to view it.