SHINING THROUGH - 2010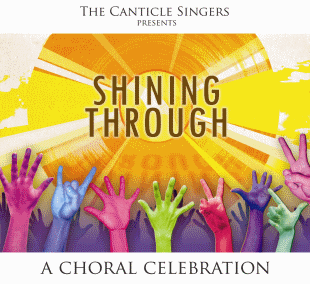 {flv popup="true" autostart="true" divid="st01" width="640" height="480"}Shining/60sec{/flv}{avrpopup type="lightbox" id="st01"}Click here for a
multimedia trailer of the show{/avrpopup}

Wed 2 to Sun to 6 June 2010
Lambang Sari, Istana Budaya
YB Dato' Sri Dr Ng Yen Yen
Minister of Tourism.


The Canticle Singers celebrates its eighteenth year with a choral celebration SHINING THROUGH featuring a rich and wonderful selection of well loved numbers, hits and lush melodies from yesteryears to the present. The concert will offer an eclectic collection of music assembled from the realm of pop, folk, jazz, lounge, gospel, the silver screen and Broadway. Selections include music by The Carpenters, The Beatles, Gershwin, Michael Jackson and from some of the latest Broadway musicals from In The Heights , Les Miserables, Jekyll and Hyde, Billy Elliot, The Colour Purple and others.
RSVP or visit the SHINING THROUGH event page on Facebook and we will keep you posted on developments leading up to the show.
Articles and Listings
New Straits Times, 28 May 2010
DOWNLOAD SHOW PROMOTIONAL MATERIALS
SHOW VENUE
Lambang Sari, Istana Budaya,
Jalan Tun Razak, Kuala Lumpu
r, Malaysia
SHOW DATES & TIMES
Wed 2 June 8.30pm Preview by invitation
Thu 3 June 8.30pm Public performance
Fri 4 June 8.30pm Public performance
Sat 5 June 3.00pm Public performance
Sat 5 June 8.30pm Public performance
Sun 6 June 3.00pm Public performance
Sun 6 June 8.30pm Public performance

The concert will also provide opportunities for fund raising and corporate representation.
CAST LIST
We are pleased to announce the cast as follows

The Company
Andrew Lai Chii Horng
Betsy Yeo Wai Li
Chang Yow Keong
Charity Lee Chin Ai
Chow Hung Lan
Emmanuel Shumba
Jasmine Lee Chian Hui
Jon Ti Yi Hong
Lim Ai Da
Low Tze Liang
Lucy Khoo Poh Looi
Mak Su Yin
Michelle Siaw Mong Cheng
Patricia Ngo Kim Lan
Samuel Goh Min Tzung
Shameela Chandran
Thiruganesh Rao

Guest Artist
Stefano Chen

Show Host
Timothy Ooi
TICKETS
Show tickets will be availalbe from AXCESS Ticketing from early May 2010.
Priced at RM58 and RM78 (inclusive of RM3 AXCESS fee) via the AXCESS Hotline

+60-3-7711-5000

begin_of_the_skype_highlighting

+60-3-7711-5000

end_of_the_skype_highlighting
, online at www.axcess.com.my and authorised AXCESS outlets at
1 Utama Shopping Centre
Parkson at Sunway Pyramid
Rock Corner at Mid-Valley
Tower Records at Lot 10
Rock Corner at The Cuve
Rock Corner at KLCC
Alamanda Putrajaya Shopping Centre
Stadium Putra, Bukit Jalil
AXCESS Office, Jln Semangat, Petaling Jaya

VISA PREMIUM DISCOUNT
In an exclusive arrangement between VISA International and AXCESS Tickets, Visa Infinite and Platinum Malaysian Cardholders will be entitled to a 20% rebate off the normal priced tickets.. Subject to terms and conditions.

CRABTREE & EVELYN GIFT
Every 4 FULL priced RM78 tickets purchased in one single transaction, gets a FREE Crabtree & Evelyn gift. This is limited to the first 100 transactions and are subject to terms and conditions.
TCS FAN PAGE

We now have a TCS Fan Page on Facebook entitled The Canticle Singers, Malaysia
Please visit our fan page within Facebook and sign up yourself as a fan first. Then click on the command "Suggest to Friends" to invite all your friends on your contact list. We are trying to build up a data base of people interested in choral music and singing.
Please note that the Group page within Facebook entitled "The Canticle Singers" has been closed and removed.
TWO FROM GALILEE
The dramatic musical Two From Galilee by Robert Sterling and Karla Worley was staged from Thursday 22 Oct to Sunday 1 November 2009·at Panggung Bandaraya, Kuala Lumpur. The family styled musical is based on a novel of the same title by Marjorie Holmes that was on the New York Times 1972 best seller list and one of the top 10 best selling novels that year.
The musical enjoyed highly positive audience and media reviews.· For more information on TWO FROM GALILEE please refer to the Performance Archive.


BE OUR GUEST
Be Our Guest was staged on Sat 30 and Sun 31 May 2009 at 8.30pm at Auditorium Perdanasiswa, University of Malaya, Kuala Lumpur, Be Our Guest enjoyed passionate and thrilled audience reviews. The concert was afeastof lush choral music and othervocalselections selected from the realm of pop, jazz, folkrock, gospel and Broadway.

Vocal Teacher and Baritone Eddy Chin remarked about the performance:-
"Thanks for a real treat! I am still in awe of the group's cohesive sound, near-perfect flow and well-held lines. I salute the singers and envy you. Tremendous and all the best forward".

Read more about the BE OUR GUEST in the Performance Archive.

Work now begins on Two From Galilee with the scheduling of a few final auditions for some support roles and the men's chorus.There will be a viewing of the DVD of the US premiere of the production on the evening of Sun 7 May 2009 with refreshments served at 7.30pm.


USERNAMES AND PASSWORDS
Registered TCS Members who have been issued with Usernames and Passwords,· will have access to the the Members Only section which will feature Notice Board,· Rehearsal Schedule, Members' Forum and Rehearsal Demos, The Library and Members' Gallery.· If you are a Registered TCS Member,· performing with us for the current season and currently do not have a Username or Password, please email us at This email address is being protected from spambots. You need JavaScript enabled to view it.